Enterprise fund hailed as another step forward
Date published: 12 November 2013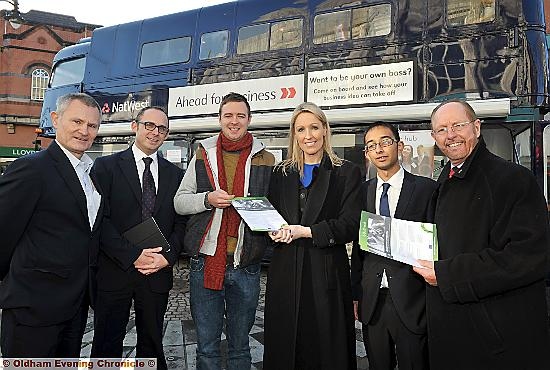 Enterprise fund hailed as another step forward
ONE of Oldham's best-known businessmen has welcomed the launch of a new fund to help the borough's youngsters achieve their career ambitions.

Norman Stoller CBE has praised improvements across Oldham in recent years and said the new Oldham Enterprise Fund is another step forward.

He has put £1 million towards the fund, which is part of the Get Oldham Working project to create 2,015 job or training opportunities for every 18-year-old leaving education by 2015.

The enterprise fun dwas launched with a NatWest roadshow in Oldham town centre, along with events at Mahdlo youth centre and Royton's Blue Tiffin restaurant, which was hosted by the Westway Nissan dealership.

Mr Stoller, an honorary freeman of Oldham, made his name with the Seton Healthcare tubular bandage firm, later SSL International.

He said: "Many people look at their background or where they live and need to be prompted to aspire. However, their circumstances should not matter.

"I started in business with £100, a van and a great deal of cheek. Young people can be anybody they want to be — as long as they have drive and staying-power.

"So I'm delighted about this new enterprise fund. It's absolutely appropriate for the times. I wish everyone involved the best success. I'd really encourage people to have a look at what's offered."
For a full version of this story read the Chronicle in print or via the digital iChron and eChron editions on mobile and laptop.