Sacked Montano on rape charge
Date published: 17 December 2013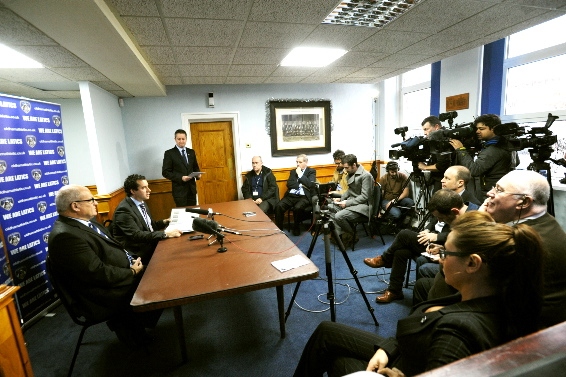 ALL eyes on Latics . . . the packed press conference announcing Montano had been sacked
SACKED Athletic player Cristian Montano had been charged with the rape of a woman in London.

The new allegation follows the scandal over Colombian player Montano's alleged involvement in a national spot-fixing scam

The 22 year old is one of three men charged with a rape said to have taken place in July 2012.

Montano, of Caspian Road, Blackley; Andres Hurtado (23), of Pemberton Gardens, Upper Holloway; and Camilo Valencia (22), of Woolridge Way, Hackney; pleaded not guilty to the allegations in London last week. All three will appear at Crown Court in March.

Montano was sacked by Athletic yesterday after appeared in a secretly-filmed video apparently apologising for not being booked in the first half of a Latics game against Wolves. The alleged "spot-fixing" scam made national headlines.

Athletic fired him yesterday, saying that regardless of any criminal investigation his conduct brought the club's name into disrepute and was a "very serious" breach of club discipline.

Montano, who signed for the League One club in August 2012 was hit by inconsistent play and injury throughout his time in Oldham.