Firms forced out in housing plan go-ahead
Reporter: Alex Carey
Date published: 13 March 2014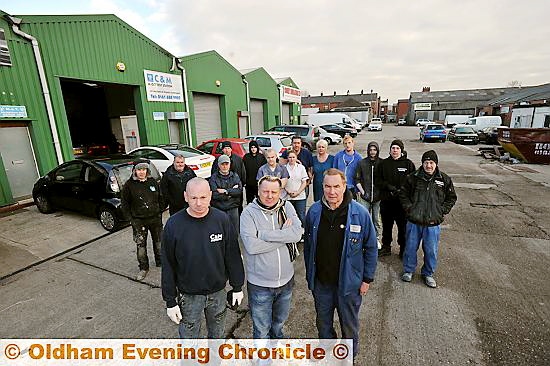 FORCED out: (from left) Robert Haslop (C&M MOT test station), Graham Whitehead (KMO Medical and Dental Laboratory), Harold Cleworth (Cleworth Motors) with fellow business owners and employees
Oldham Council Planning Committee

CONTROVERSIAL proposals will see 30 businesses make way for housing, it was confirmed last night.

Phoenix Mills Industrial Estate in Cheetham Street, Failsworth, will be demolished, leaving business owners to relocate or close following the granting of planning permission.

Business owners and workers from the estate left in disappointment after aproval was announced.

Liquidators Mooney Rodgers LLP will start work on the transformation of the site in 18 months, and in the meantime all existing businesses will be offered help to relocate.

But Harold Cleworth, who has run Cleworth Motors on the site for 23 years, said: "I'm 70 now and I simply can't think about moving somewhere else. I'll have to close and make the four members of my staff redundant, which I don't want to do."

The application was originally rejected in 2011, then approved on appeal.

A liquidators' spokesman said there are a significant number of suitable relocation sites within three miles of the current businesses.