Brave newlywed loses cancer fight
Date published: 14 April 2014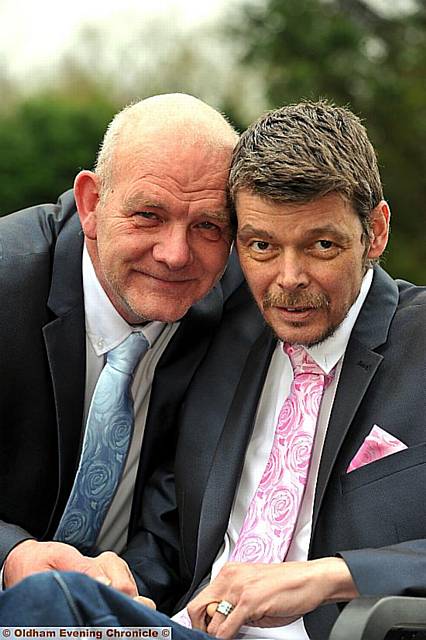 Touching moment: Cliff and Richard on their wedding day
A GRIEVING husband has seen his partner die only three days after their groundbreaking same-sex marriage.

But two days after Richard Byram-Leech (42) lost his battle with lung cancer, devastated newlywed Cliff Byram-Leech (58) went ahead with the wedding reception they had planned to celebrate their union. The event became a celebration of Richard's life.

Last Monday Richard and Cliff married in Greater Manchester's first same-sex wedding. The couple had planned to wed on July 5, but Richard's deteriorating health saw them bring the day forward.

Dedicated Dr Kershaw's staff helped organise a special day that saw the couple share their vows in front of family and friends from across the country.

The joy was tragically brief as Richard died on Thursday.

Cliff decided to continue with the wedding reception at Chadderton Town Hall on Saturday for close family and friends - so they could share in their love and experiences of Richard.

He said: "I felt Richard was very courageous for everything he's gone through. We didn't carry on with a celebration of our wedding but with a celebration of his life."

Kay O'Neill, senior nurse at Dr Kershaw's, said: "It's been very mixed emotions, from being very happy on the wedding day to very sad at Richard's death. But we were proud to be able to host a wedding family and friends were able to make into a special day."

The couple had been inseparable since they first met in Blackpool more than 23 years ago.

The couple moved to Holts Estate 20 years ago. Richard was diagnosed with cancer in October.

Cliff said: "When Richard was diagnosed we said straight away we should get married. It just seemed fitting to get married given the circumstances."

New laws came into force on March 29 making same-sex marriage legal.