To have and to old!
Reporter: ALEX CAREY
Date published: 03 June 2014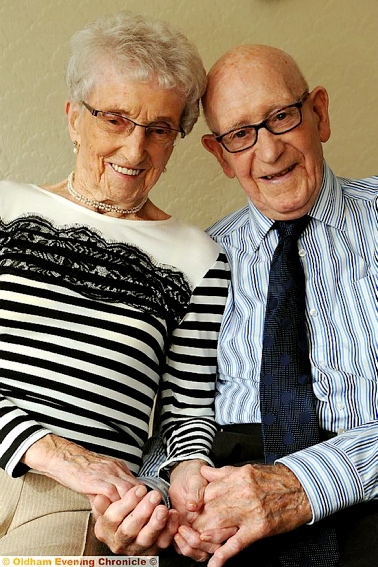 Sarah and Joseph Littlewood: happy anniversary
Oldham's oldest couple Joseph and Sally Littlewood, today celebrate their 75th wedding anniversary.

The lovebirds, who met at a dance hall in 1933 have been separated only once during their 81-year relationship — when Joseph was away in World War Two.

The soulmates, who lived in Kingston Avenue, Chadderton, for 74 years before moving to nearby sheltered accommodation in January, married at Corpus Christi Church in Chadderton in 1939, after six years together.

Joseph and Sally are parents to daughter Wyn Brady (68) and son Terrance Littlewood (67).

Despite their combined age of 197, the duo remain active at keep-fit classes: "We have been so fortunate all of our lives," said Sally. "We have good health, great family and friends and have some amazing memories. We're very lucky to have each other, we know that."

Sally said: "I will always remember what first drew me to Joe. I was with my friends and we talked and danced. He took me on a walk and bought me a Mars bar — a big deal for me because my family were really poor and we didn't have much. After that we just fell in love - and we're still very much in love."

Six months after their wedding Joseph was called up and sent to North Africa. The couple didn't see each other for four years.

Joseph said: "The war was horrible. It was not nice being apart but we sent letters and stayed in touch."

Daughter Wyn said: "They really are proof of how marriage can work. They still argue, like any other couple, but that just shows they are still very much in love.

"Dad is really serious, whereas mum just loves to joke around; together they're just brilliant."


Joseph and Sally aren't Oldham's longest-married couple. In 1992 the late Harry Walne died aged 103 — a month short of his 81st wedding anniversary to wife Sarah Ann, who died three months later also aged 103. Another month together would have seen them match the British record.