Brave Jo's a tower of strength
Reporter: ALEX CAREY
Date published: 04 July 2014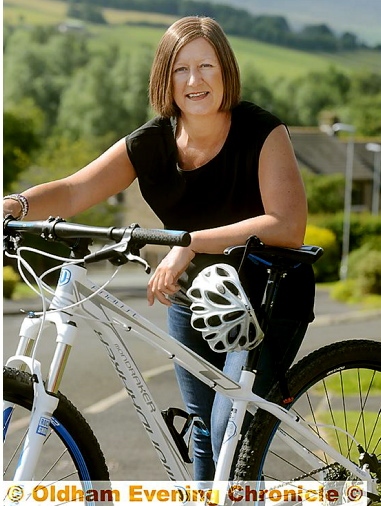 SADDLING up: Jo Taylor gears up for a 60-mile bike ride during her chemotherapy treatment
AN inspirational woman is cycling 60 miles to raise money for The Christie - even though she is currently half-way through chemotherapy treatment.

Jo Taylor (45), from Diggle, is fighting cancer for the second time but will get on her bike for a Manchester-to-Blackpool ride for the hospital charity.

The mum-of-two is currently in the middle of a seven-week break from therapy and despite treatment restricting her training schedule, is raring to go.

"Cycling is a bit of a passion of mine and it's a great way of raising money for a good cause," she said.

Jo runs her own website and blog, called After Breast Cancer Diagnosis (ABCD), where she shares advice, photos and her own story to help other cancer fighters or survivors.

Jo suffered breast cancer in 2007 and is currently fighting a tumour in her neck. Her ABCD group's main aim is to offer advice to others about reconstructive surgery.

The bike ride is on July 13 and Jo is expecting to complete it within three hours, raising more than £2,000 in the process.

Visit Jo's website at www.abcdiagnosis.co.uk or follow her on Twitter at @abcdiagnosis.
Money can be donated
at https://www.justgiving.com/Joanne-Taylor24