£36.7m cost of new cinema
Reporter: Alex Carey
Date published: 23 January 2015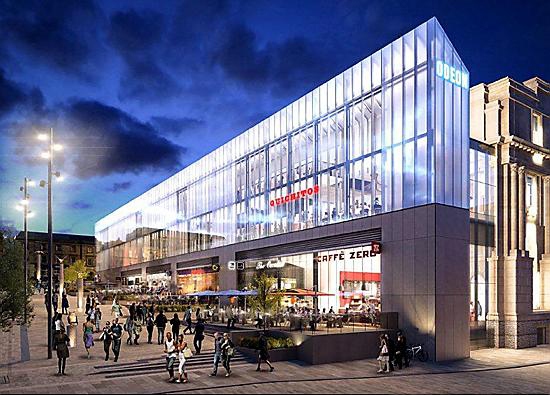 Oldham's forthcoming cinema complex, at the heart of what will be a new public space, Parliament Square
PLANS to transform the delapidated old town hall into a cinema complex will cost Oldham Council £36.7million — but it could bring in an extra £55m over 10 years.

A new report, to be presented to Oldham Council's cabinet members on Monday, provides a breakdown of the project, its funding and its value for money. More than £26million of the cost will come from the council.

The 800-seat Odeon with its seven cafes and restaurants is seen as the cornerstone of town-centre regeneration. Construction work, by Morgan Sindall, will cost £30.6million and will be completed by May next year.

Council leader Jim McMahon said: "I welcome this report. It's important we're fully transparent about this with the public."

The report predicts an extra £5.5 million worth of economic activity will be returned by the project each year, as well as providing 233 new jobs.

The £36.7m cost of the project will be financed both by the council and from borrowing and grants.

"The direct contribution of £26.3m from the council resources compares with £16.163m to simply stabilise the building. This excludes any residual obligations to management, maintenance and car parking which are currently subject to sensitive negotiations.

"The difference of £10.135million in the opinion of the council provides good value for money in that it secures a viable modern use for the historic building, creates jobs and economic activity in to the town centre."

Oldham has seen significant financial investment in recent years, including a £430m investment in housing, £137m in education and £80m in healthcare facilities.

The report states: "We believe in investing in positive regeneration rather than simply managing decline — we have the opportunity to change the fortunes of our town."

Councillor McMahon added: "We know this building is hugely important to local people and also to the future prospects of Oldham town centre's economy."

Read the report at www.oldham.gov.uk.