Final curtain for derelict mill
Reporter: Martyn Torr
Date published: 04 March 2015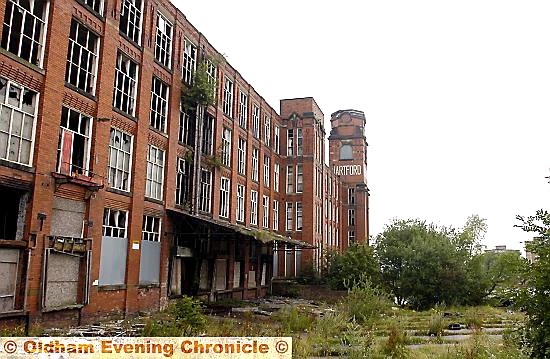 Hartford Mill, Werneth: first moves in demolition
AN ABANDONED mill that has been an eyesore and magnet for vandals for more than 20 years could finally be demolished.

Plans are well-advanced for the destruction of the derelict Hartford Mill in Block Lane, Chadderton.

Firefighters in Oldham have been called out countless times over the years to deal with fires started in the Grade II listed building. The mill was last used as a mail-order warehouse in 1992 and has since been abandoned.

The owner has now agreed the five-storey red brick mill, built in 1907, needs to be demolished. Oldham council regeneration officer Ben Hill said the mill, which ceased cotton production in 1969, was protected as being of special architectural significance due to its stone floors. Renovating the mill would cost around £30 million.

"No-one is going to spend that kind of money on a property that wouldn't have a practical use," he added. Applications for delisting have been submitted, supported by the council and the owner. The process can often take a significant amount of time. The council would like to develop the area for around 370 homes.