First test-tube baby hails birth pioneers
Reporter: Karen Doherty
Date published: 17 March 2015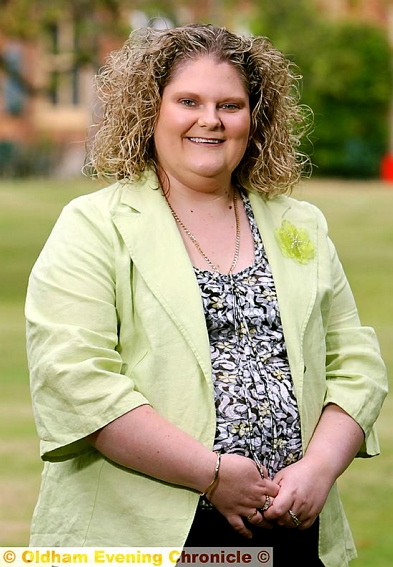 the world's first test-tube baby, Louise Brown
THE world's first test-tube baby paid tribute to the pioneers who made her birth possible.

A message from Louise Brown was read out at the unveiling of a blue plaque to honour gynaecologist Patrick Steptoe, reproductive biologist Sir Robert Edwards and his assistant Jean Purdy at Dr Kershaw's Hospice.

They set up a research lab at the Royton site — then Dr Kershaw's Cottage Hospital — in 1971 where they developed in vitro fertilisation (IVF), which has led to the births of millions of children worldwide.

Louise was born at what is now the Royal Oldham Hospital on July 25, 1978 weighing 5lb and 12oz. Her parents Lesley and John Brown had been trying to conceive for nine years Her younger sister, Natalie, was conceived through IVF four years later - and became the first IVF baby to give birth herself.

The blue plaque was unveiled on Friday by the Society of Biology — part of a new series of 10 new plaques around the UK celebrating the eminent but sometimes unsung heroes of biology.

In her message, Louise said: "My mum always spoke with great affection of her visits to the little cottage hospital in Oldham where the biologists did such great work. It was here Jean Purdy first saw cells divide through a microscope — the beginning of my life!

"Sometimes we forget that science is not just about test-tubes and chemicals it is about people and the difference that can be made to people's lives. A few years ago, just before she died, my mum realised that every blood relative she had in the world — me, my sister Natalie, her grandchildren — had all been due to science and IVF. Without the biologists she would have been alone in the world."

Prof Andrew Steptoe from University College London, son of Patrick Steptoe, was at the unveiling and said: "I vividly remember coming with my father to Kershaw's on my visits from Oxford or London, often late in the evening.

"What struck me was the cheerfulness of the women who underwent these procedures, their utter confidence in Patrick and the scientific team, and the kindness with which they were treated by the nurses and other staff here. In vitro fertilisation has been an extraordinary achievement from the medical, scientific and societal perspectives. IVF is now a normal process; millions of men, women and children live on our planet as a result of this work, and they are no different from anybody else.

"What is particularly remarkable is that these achievements were all carried out here, in what was then a small cottage hospital in a medium-sized town in the North-West of England, with no particular characteristics that marked it out as a place of scientific innovation."

Michael Meacher, MP for Oldham West and Royton, and the Mayor of Oldham, Councillor Fida Hussain, also attended the celebration..