Cause of aircraft crash a mystery
Date published: 15 September 2015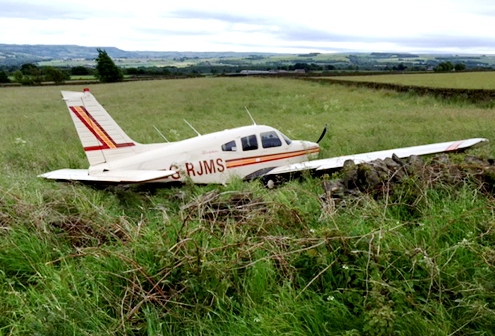 The damaged plane ended up in a field
A question mark remains following an air crash in which the 82-year-old Oldham pilot had a miracle escape.

Pilot Malcolm Hill was accompanied by his wife Margaret and another married couple when their private plane careered off the runway and crashed through a wall at Crosland Hill airfield near Huddersfield. The four-seater Piper Cherokee Arrow was wrecked but Mr Hill, from Grasscroft, and his passengers walked away with only slight injuries.

A newly published air accident investigation report said the aircraft developed a swing to the left during take off that the pilot was unable to correct. The aircraft left the runway, ran down an embankment and crashed through a stone wall.

Though no firm cause could be identified for the crash, the report said photographs showed marks on the runway where the aircraft began its take-off roll. Mr Hill believed the nose landing gear retracted and compromised his ability to steer the plane - but investigators weren't able to refute or confirm the pilot's theory.