You can't build that here! Wendy house will have to go
Reporter: KEN BENNETT and ALEX CAREY
Date published: 15 September 2015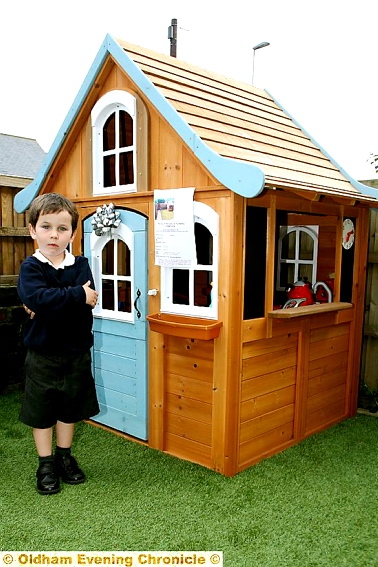 BIRTHDAY present . . . neighbours complain about Jacob Heron's (4) playhouse
Jacob Heron has fallen foul of planning regulations - at the age of FOUR.

Oldham planners have insisted his new birthday Wendy House has to be taken down after rejecting his parents application for planning permission.

Michael Heron (26) and Jenna Hulme (25) of Huddersffield Road in Diggle received a letter in late June telling them to take it down or apply for planning permission for the 5ft 7in, £240 playhouse, brought for birthday boy Jacob and his sister Remie, who is two.

A neighbour had complained to housing association First Choice Homes that the playhouse compromised their view. Stunned by the letter, the couple applied for planning permission - which cost another £172.
On Friday the council said the application had been rejected - so it must be taken down or an appeal made.
Mike, a school counsellor, said: "The idea this little Wendy house can compromise someone's view is baffling. Jacob was really excited on his birthday and loves playing in the house. The thought we might have to take it down is heartbreaking. We are appealing.

"It is particularly weird that Oldham Council has no problem accepting plans for a huge new school just down the road from our house, but a playhouse is out of the question.

"The issue might be that it is in our front garden - but we don't have a big enough back garden for the children to play. We thought the planning appplication was a ridiculous process we'd eventually laugh about - but we never thought it would turn out like this."

Councillor Dave Hibbert, cabinet Member for planning, said: "Permission is required for garden sheds, garages, Wendy houses and many other structures where the main garden is at the front of the house.

"We have sympathy with the owner and nobody wants a child to not enjoy their garden, but legislation charges us with protecting the visual appearance of the area. Written objections show other residents had significant concerns and on balance we agreed with that concern."

The playhouse ban has enraged Saddleworth villagers, who are linking it to their battle over the controversial siting of the new £19.2 million Saddleworth School in Diggle. The site is a few hundred yards from the Wendy house.

Saddleworth parish councillor Keith Lucas, who lives in Diggle, said: "I'm speechless. When I was first shown this I thought it was a hoax. It beggars belief this is a OMBC planning decision. Really, how do you expect anyone in Diggle, Dobcross or the whole of Saddleworth, to have faith in the integrity and professionalism of Oldham's planning team if they can make such bizarre planning decisions?"

Mark Brooks, chair of Diggle Community Association, said: "Is a common sense approach to much to ask?"