Farage constant games dismissed by deputy
Date published: 09 November 2015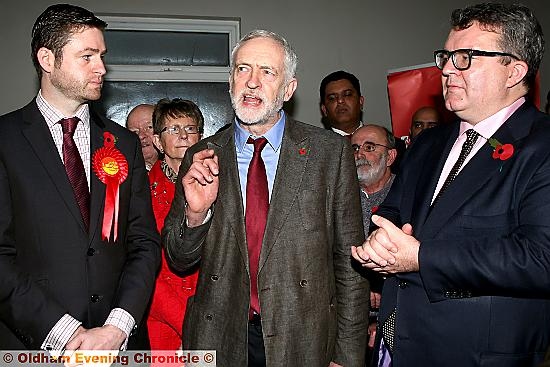 By-election candidate Jim McMahon with Labour leader Jeremy Corbyn in Oldham
Scroll down for Video
Farage constant games dismissed by deputy

Countdown to the Oldham West and Royton by-election on Thursday, December 3

LABOUR's deputy leader Tom Watson dismissed Mr Farage's comments of a possible clash between Councillor McMahon and Mr Corbyn.

Speaking during a visit to Oldham with Mr Corbyn, he said: "These are constant games being played by Nigel Farage. I hope he doesn't want to make it a personal campaign.

"He himself was criticised and a victim of slurs. I hope he doesn't do that — Oldham deserves better than that. I've known Jim for a long time. He is probably the most respected council leader in the UK. Jim is going to stand up for local issues."

Earlier, Mr Corbyn officially launched Councillor McMahon's by-election campaign and paid tribute to the later MP Michael Meacher, saying: "I think we should all remember the very sad reason for having this by-election — that is the very tragic death of our great friend Michael Meacher.

"I will be at his funeral next Friday to represent the entire Labour party to show the whole world how much-loved, respected and admired Michael Meacher was.

"I'm here to support Jim McMahon, our candidate in the by-election, and he will be successful. It's Labour who are standing up for ordinary people, it's Labour who are standing up for people's right and ability to work, it's Labour who are standing up for our future and for our children.

"That, quite simply, is what the choice is. We're going to get Jim McMahon elected for this constituency to show the people of Oldham that we can have a decent, better Britain that cares for all and not the few."

Visiting Oldham earlier that day, UKIP leader Nigel Farage said he believes Councillor Jim McMahon was the last person Jeremy Corbyn wanted to win, as they will be at odds with each other on every issue.

The party has repeatedly described Mr Corbyn as being "unpatriotic".


"What I do know is that we have to listen to voters. This is their election. The candidate who wins will address their concerns."

Asked if this by-election was a test of Mr Corbyn's leadership, he added: "Seventeen thousand families in Oldham will be affected by the tax credit cuts. We hope it will be a test for the government.

Councillor McMahon (35) secured 232 votes for his nomination. The party hopes to retain the 14,738 majority won this May by the late Michael Meacher, who died last month. His funeral will be held on Friday.

Councillor McMahon said: "I have always wanted to give Oldham a voice and to represent the town I live in and care for for a long time. This is a different way of presenting the town I care about. The regeneration will continue. I will be here as long as Oldham needs me.

"I want Oldham to be the best it can be for people who are willing to work hard and contribute — they should get the reward of that. We can only do that with a Labour government. I'm happy to step forward for the town, happy to stand forward for the Labour party and I'm happy to show Ukip the door."

In response to Mr Farage's comments, Councillor McMahon added: "Me and Jeremy get on very well. I've worked with him, he's a very decent guy who is respected a great deal."

Describing Councillor McMahon as a strong choice, Oldham East and Saddleworth MP Debbie Abrahams said: "In terms of what he's done as leader of the Council, it wasn't a surprise at all that he was selected. I look forward to a strong performance in the by-election."

Councillor Zaid Mushtaq said: "He's put Oldham on the map. We will be sorry to miss him on the council. We were going to lose him at one point — but it's better to lose him to Oldham than anywhere else."

The other candidates for the by-election on December 3 are John Bickley for UKIP, James Daly for the Conservatives, Jane Brophy for the Lib Dems, Simeon Hart for the Green Party, and Sir Oinkalot for the Monster Raving Loony Party.
email: iramramzan@oldham-chronicle.co.uk