Power blaze sparks panic
Date published: 08 February 2016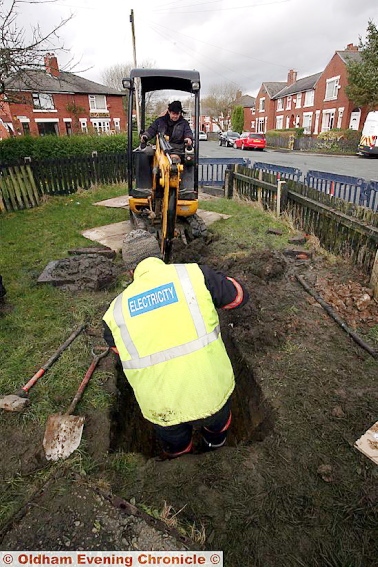 Engineers quickly got to work to restore power to the 154 homes
MORE than 150 households were left without power yesterday after an underground electrical fire cut supplies and sparked flames as "high as houses".

Residents in the Manor Road and Byland Avenue area - near the junction of Abbeyhills Road and Roundthorn Road - described being awakend by a loud electrical buzzing around 4am. The electrical fire plunged local streets into darkness as emergency crews tackled the fire in utility cables under the front garden of a house on Manor Road.

The house is rented by seven-months pregnant tenant Lisa Cleary (30) who has her eight-year-old daughter.

"I was woken about 3am by a screeching noise," she said. "I thought a car had come into the house. All the lights started flickering. I looked out and saw flames as high as the house coming out of the front garden. My main concern was to get myself and my daughter, Keira, out safely.

"We ran up the street then called the fire brigade, who barricaded the street. They said it was underground wiring but it was like a gas fire - there are gas pipes under the ground too. The fire went on for about an hour."

Lisa added: "I might have to see if I can get rehoused - I've got no electricity at the moment. But it could have been worse, I suppose. The whole house could have gone up in flames. But we were traumatised. My nerves are in shreds and my daughter doesn't want to go back to the house."

A fire service spokesman said, "We arrived just before 4am and made the area safe. We were there until 5.30am. Electricity workers turned up and the power cut affected a number of houses."

A spokesman for Electricity North West reported that 154 homes had their power returned around 5.30pm.