MP joins fight to fix dementia care
Date published: 23 February 2016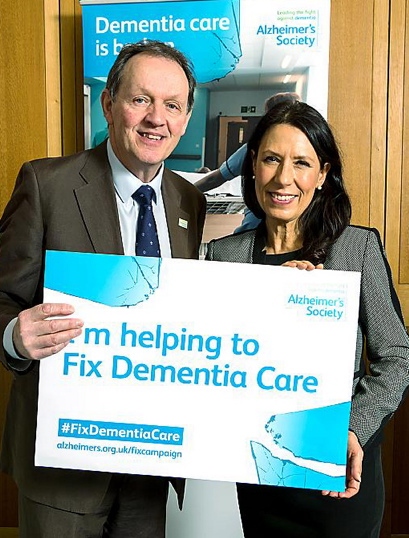 ACTOR Kevin Whately and Oldham MP Debbie Abrahama are backing the Alzheimer's Society Fix Dementia Care campaign Kevin Whatley and Debbie Abrahams, MP for Oldham East and Saddleworth, is has thrown her support behind Alzheimer's Society's new campaign Fix Dementia Care which calls for improvements in hospital care for people living with dementia.
OLDHAM East and Saddleworth MP Debbie Abrahams is supporting the Alzheimer's Society's new campaign for improvements in hospital care for people living with dementia.

An Alzheimer's Society investigation has found too many people with dementia fall while in hospital, are discharged at night or are "marooned" in hospital despite their medical treatment having ended.

Its Fix Dementia Care campaign aims to end the postcode lottery of hospital care faced by people with dementia.

Mrs Abrahams, the only MP trained as a Dementia Friends champion, said: "Good hospital care for people with dementia should never be a throw of the dice yet in some hospitals people are routinely experiencing the consequences of poor care. The first step to improving the issue is greater transparency. Once we know where the shortcomings are we can take steps to tackle them."


Actor Kevin Whately — best known as policeman Robbie Lewis in acclaimed series "Inspector Morse" and "Lewis" — is also backing the Fix Dementia Care campaign. He became an ambassador for the Alzheimer's Society in 2007.

His mother Mary died with dementia in 2009. He said: "Before my mother's diagnosis with Alzheimer's I hadn't known anyone who had suffered from it. I know how devastating Alzheimer's, and any form of dementia, is for the person diagnosed and their families.

"Mum was a very sharp, intelligent lady and she fought to maintain her independence. Although she'd been diagnosed eight years prior to the hospital stay, this was a huge turning point. It was the beginning of the end.

"Hospital managers need to know about the kind of care people with dementia receive and should be held to account when things go wrong."

The Alzheimer's Society is calling on people to back the Fix Dementia Care campaign by signing up at www.alzheimers.org.uk/fixhospitalcare.