Party 'out of touch' claims Bates
Date published: 13 April 2016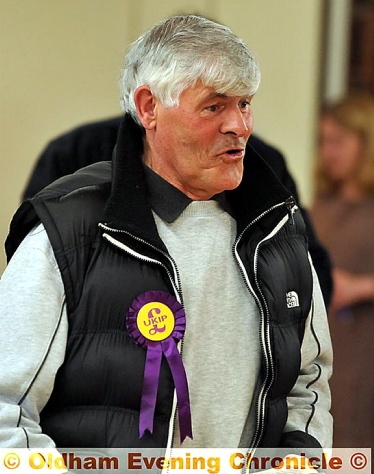 PASSION over EU referendum has taken over, says Councillor Bates
PASSION over EU referendum has taken over, says Councillor Bates

Controversial Oldham UKIP councillor Warren Bates has hit out at his party for being "out of touch with local politics".

Councillor Bates said UKIP is all about "referendum mania" and the party's passion to leave the EU is "taking over local politics" — after a candidate selected by local members was rejected by party officers.

When Oldham Council candidates were announced on April 7 a UKIP Oldham source revealed the controversial Failsworth East candidate Graham Whitehead has failed to pass vetting criteria. Local members are up in arms after unanimously selecting him to stand again this year. As a result there will be no UKIP candidate for the ward.

In the run up to last year's local elections Mr Whitehead was at the centre of a media storm after being accused of making racist and offensive comments on his Facebook page.

Police and Crime Commissioner Tony Lloyd made an official complaint but after an investigation, police didn't charge Mr Whitehead and UKIP allowed him to contest the Failworth East seat. He came second to the-then council leader Jim McMahon, now a local MP.

A UKIP insider said local members are highly disappointed by the decision to drop Mr Whitehead, who was a popular choice partly due to his campaigning against plans to plans to demolish 40 business at Phoenix Mill, Failsworth losing around 100 jobs in favour of 89 houses.

Mr Whitehead has been unavailable for comment, but when contacted about the issue, Councillor Bates of the Failsworth West ward, said: "I joined UKIP as a party of hope. I fought for the EU referendum but it just seems to be referendum mania now. It's taking over local politics. UKIP seems to be completely out of touch with local politics."

A year ago it was discovered that on his private Facebook page, Mr Whitehead "liked" the far right group Britain First — a group UKIP branded as nutters and whose slogan is "taking back our country".

In screen shots Mr Whitehead was pictured wearing a T-shirt emblazoned with a poppy and the phrase "try burning this, you bastards".

His profile picture was legendary First World War German fighter pilot Manfred Von Richthofen — better known as the Red Baron.

A UKIP spokesman said the incident was a positive story - highligting the party's growth to a point at which a more thorough vetting of potential candidates can be undertaken.