Council pervert motion
Reporter: IRAM RAMZAN
Date published: 26 April 2016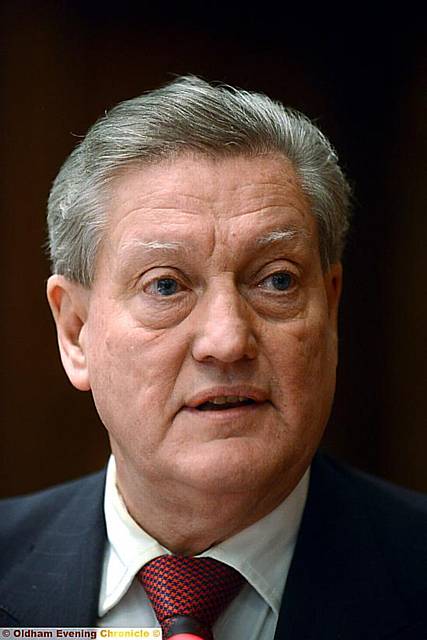 DEFIED calls to resign . . . Councillor Mike Buckley
SADDLEWORTH parish councillors are continuing to pile on the pressure for disgraced parish councillor Mike Buckley to quit.

At last night's parish council meeting in Uppermill Civic Hall, councillors passed a motion to change the law so that convicted sex offenders cannot serve as elected officials or officers of any public body.

The motion, proposed by Cllr Jamie Curley, was passed by all members with one abstention.

Shamed

Cllr Buckley was found guilty last December of downloading more than 300 images of naked boys from the internet. More than 700 local people signed a petition urging him to quit.

He was sentenced to 35 two-hour sessions, with extra work in between, at an internet sexual offenders' treatment programme.

He will also be subject to supervision by the Probation Service for two years and to a Sexual Harm Prevention Order for five years.

The shamed councillor made his first appearance at a public meeting earlier this month, prompting a walkout from Cllr Steve Hewitt. He did not attend last night's meeting.

Debbie Abrahams, MP for Oldham East and Saddleworth, has secured a meeting on May 4 in London with Marcus Jones, minister for local government, to discuss the legislative proposals.

Cllr Curley said: "As councillor Katrina Roman said, it's time to call a spade a spade, to draw a line under this."

He spoke about the "vindictive campaign" on social media and insisted that the parish council is doing all it can in dealing with Cllr Buckley.

He added: "People are fed up but let us deal with it properly. We will put a line under this by getting the law changed."

Cllr Rob Knotts said: "This is a very powerful statement to say that this person is not suitable to represent the community."

There were some concerns that if the law were to be changed it would not apply retrospectively.

Cllr Keith Lucas said: "We have a member who can't do his job. We have asked him to resign and re-stand. The electors elected him. He's banned from doing anything – he's not in a functional role. It doesn't make sense. Cllr Buckley, if you think you can win then re-stand."

Chair of the parish council, Cllr Neil Allsopp also hit back at negative comments made by Cllr Arooj Shah at a full council meeting in relation to parish councils.

He said: "I address this to Cllr Arooj Shah. This 'insignificant body', may have been, or may be, instrumental in changing the law to improve standards of officers in public life.

Another motion proposed to allow only the chairman and vice chairman of the parish council and parish sub-committees to attend the Parish Council and Community Associations Forum to represent the parish council. Other councillors who wish to attend would only be able to attend at the invitation of the forum chairman to speak on specific agenda items.

Some councillors believe this motion – proposed by Cllr Paul Fryer – was a thinly-disguised way of preventing disgraced Cllr Buckley from attending any more public meetings.

Cllr John Hudson said: "I think it should be left open in the interest of openness to the public. There have been times where I would have liked to have stopped a lot of people being on committees but that's not how democracy works."

Cllr Katrina Roman said: "I think maybe we should keep it more open but put in a clause that anyone can attend as long as they're not a sex offender."

The motion was debated and passed by 11 councillors in favour and five against.