Labour: You will bear the brunt of Brexit
Reporter: Alex Carey
Date published: 24 May 2016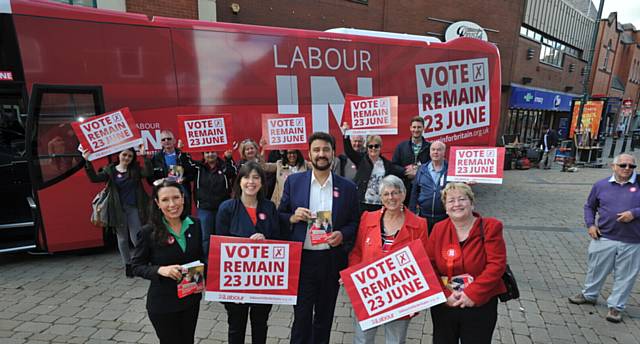 Labour battle bus to stay IN Europe arrives in Oldham. PIC (front) L-R: Debbie Abrahams MP, Lucy Powell MP, Afzal Khan MEP, Julie Ward MEP and Cllr Jean Stretton (OMBC Leader). Other councillors and supporters behind.
"TOWNS like Oldham will pay the biggest price if Britain leaves the European Union" - that's the view of Education Shadow Secretary Lucy Powell, who rolled into the town centre yesterday on the "Labour In for Britain" bus.

The Manchester Central MP joined Oldham East and Saddleworth MP Debbie Abrahams, Oldham Council leader Jean Stretton, interim Greater Manchester Mayor Tony Lloyd, North West MEP Afzal Khan and a whole host of local Labour councillors.

Ms Powell arrived in Oldham on Labour's battle bus at around 11am to tell locals why she believes remaining in the European Union is the best option for Britain.

She said towns like Oldham will feel the economic backlash of a Brexit on June 23.

Ms Powell said: "I think the critical issue is what will happen to the British economy. The consensus is now absolutely clear that there would be quite a big economic risk to Britain leaving the European Union and, let's be honest, it's places like Oldham that would bare the brunt of that cost. It's not the better-off in the city of London that will pay the price, it's hard-working ordinary folk in Oldham. As we have seen over the last few years when the cuts fall, when the economy starts to shrink, it's towns like Oldham that pay the biggest price."

Ms Powell, who also visited Hyde, Manchester, Salford, Bury and Bolton yesterday, said leaving the EU will not solve Britain's immigration issues and accused the Leave Campaign of delivering "false hope".

Ms Powell said: "What the Leave Campaign is promising a false hope when it comes to immigration. If we were to access the single market and to continue to trade with Europe, which is what everyone's saying would happen, then we would still be subject to free movement of people.

"If you look at Norway or Switzerland, two other countries that operate outside the EU but still access the trading relationship, they have higher rates. Norway has a higher rate of immigration per person in the country already than we do.

"We have got to control and manage immigration better. Immigration is a legitimate and important concern but thinking that leaving the European Union is going to solve our economy and immigration woes is just wrong.

"What will come is a down turn in the economy, more cuts to public services."

Oldham Council leader Jean Stretton said claims that a Brexit will solve immigration issues are "rhetoric and fear-mongering" and added that Oldham cannot afford to lose investment from the EU.

Investment
She said: "I think it's the best option for people of Oldham to stay in. I think some of the national politicians are not doing us any favours. Some of the Brexit campaigners are coming out with outrageous remarks and I just think the investment that has come in to Oldham over the years from the EU, we can't afford to lose it.

"Also, one of the big things for me are the changes that have come about for workers' rights from the EU. Paternity leave, maternity leave, paid holidays, a whole range of protections for workers which are really important. I also think that there is so much uncertainty about what will happen if we come out (of the EU). What will it do for the price of food in the shops? What will it do for currency?"

North West MEP Afzal Khan added: "The world we live in is rapidly changing and, for me, it's a very basic ideal that by working together we can achieve more. We are better off by being in. We get more out than we put in.

"We are also safer and have more of an influence on the world by being a part of the EU. The world is a big place, the more we are together with our friends, the stronger we are."

Debbie Abrahams, MP for Oldham East and Saddleworth, said: "I believe Britain is better off in Europe because it brings us jobs, growth and investment, protects British workers and consumers and helps keep us safe. Leaving would put that at risk and diminish Britain's influence in the world.

"There is plenty of evidence to show the economic benefits of EU membership to Britain. For example, it's the biggest trading block in the world creating 3.5million jobs, 14,000 of these in Oldham, and contributed £227billion to the economy last year alone.

"The way to maintain these advantages is by remaining a part of Europe."