Drive highlights work of force's volunteers
Reporter: Jacob Metcalf
Date published: 31 May 2016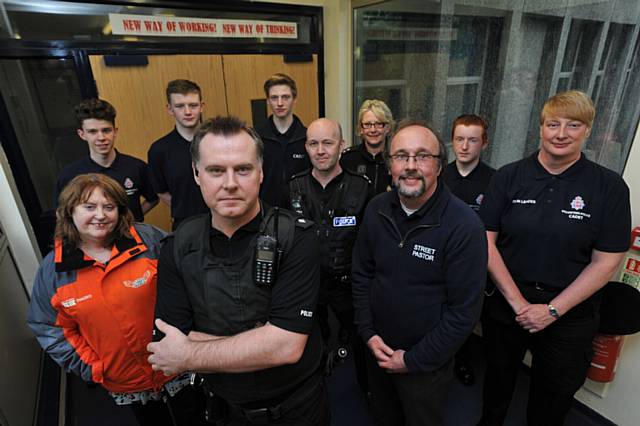 LEFT to right: Rev Jean Hurlston (Oldham Street Angels), cadet Ciaran Collins, cadet Rob Slater, Insp Trevor Harrison, cadet Aaron Bell, Special Insp Matt Saville, Insp Karen Taylor, Graham Radcliffe (street pastor), cadet Luke Blair and PCSO Sue Hoyle (cadet leader).
GREATER Manchester Police and volunteers came together to celebrate their contribution to the borough and encourage others to help out in the community.

The recruitment drive was held on May 19 at Oldham police station where the street angels, street pastors and police cadets showcased their work and highlighted the support that they give to the force.

Inspector Trevor Harrison from GMP was on hand to promote the drive by coordinating activities.

He said: "The force is transforming the way it delivers local policing and a key part of this work is to build on partnerships in the community.

"Volunteer groups and individuals already make an important contribution to the work of our officers and we would love to see this continue and develop.

"Projects like these are really important because it shows that everyone can play a part in creating a community that we can all be proud of.

"Organisations such as the street angels and the street pastors already give up their time for free to make their community a better place.

"For example, the street angels patrol the town centre during the busy evening periods, working to help reduce incidents of violence and giving support to vulnerable members of the public.

"The street pastor's spend time speaking to young people in Chadderton and Failsworth, diverting them away from situations where they could become vulnerable."

For information on how to volunteer alongside police in Oldham contact oldhamborough@gmp.police.uk or oldhamcentral@gmp.police.uk.