Royal honour for Chernobyl group
Reporter: Jacob Metcalf
Date published: 06 June 2016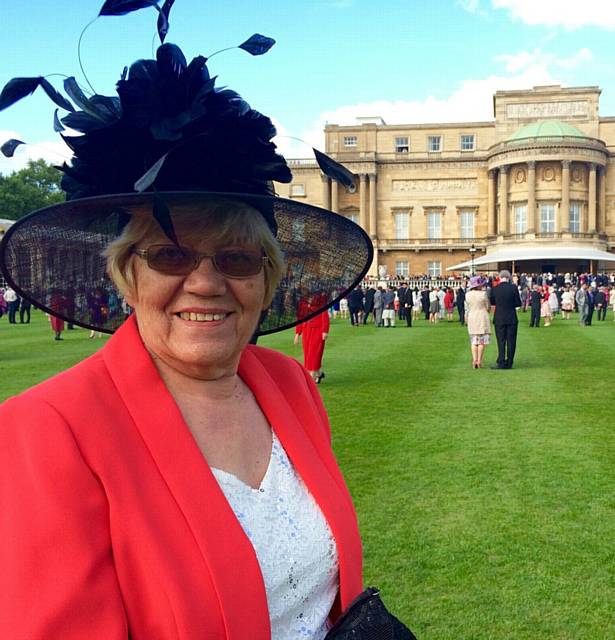 CHAIRWOMAN of the Chernobyl Children's Lifeline (Oldham Link) Theresa Novotny attending the Queen's garden party last month
A VOLUNTARY group that reaches out to children affected by the Chernobyl disaster has been recognised by the Queen.

Chernobyl Children's Lifeline (Oldham Link) is among the winners of the Queen's Award for Voluntary Service 2016 for its work within the community caring for children suffering from the repercussions of the Chernobyl nuclear disaster in 1986, it was announced yesterday.

The CCL (Oldham Link) is one of 193 charities to receive the award - the highest given to a volunteer group - which recognises outstanding work within communities.

Chairwoman of CCL Oldham Link Theresa Novotny and her son Franz , also from CCL, attended a garden party at Buckingham Palace on May 24 where they met the Queen, Prince Philip, Prince William, the Duchess of Cambridge and the other winners of this year's award.

Theresa said: "To receive this award from Her Majesty is not just a great honour but also a wonderful morale boost for our hard-working band of volunteers.

"It is a very joyful reward which is blowing fresh wind into our sails, as it were.

"It is a double blessing because we also see the result of our endeavour on the children's happy faces.

"It never fails to amaze us how much the children benefit from the tender loving care during their four-week recuperative break in the UK.

"May I say thank you on behalf of the group to all the people of the Oldham Borough, and throughout the North-West, as they deserve a share of this happy occasion for their unstinting support."

The meltdown at the Chernobyl plant on April 26, 1986, was the worst nuclear disaster in history.

CCL (Oldham Link) began more than 23 years ago when Theresa saw a short piece in the Chronicle inviting people to a meeting to work out ways they could help those affected by the disaster.

Theresa found herself forming a committee and raising £4,000 to bring the first group of 10 children to Oldham.

The money started to mount up, and so the Oldham link of CCL began and since then it has helped around 400 children.

The award will be presented by the Lord Lieutenant of Greater Manchester on July 4 at a ceremony to be held at Gorton Monastery.

Mossley Juniors Football Club, which runs 11 teams, was also honoured with the award after 31 years of playing the game for fun.

Club secretary Kevin Hartley said: "This means everything to us.

"We don't have a winning ethos - our ethos is that the kids are smiling and learning."

The club has 150 players, both boys and girls, aged from under 7s to under 18s, and 34 volunteers.

A group of volunteers from the World Mission Society Church of God (UK ZION) in Old Trafford, which carries out work in Oldham, were also honoured as were, reported in the Chronicle last week, Oldham's Terence O'Grady Social Club.