'Devastated'
Reporter: Lucy Kenderdine
Date published: 17 June 2016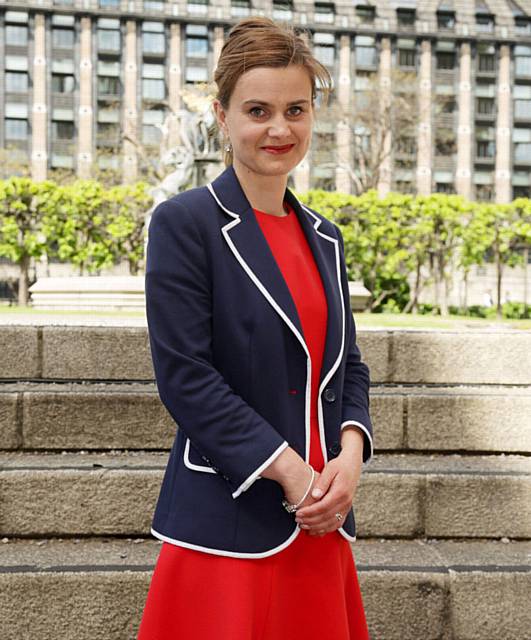 TRAGIC ... Jo Cox
OLDHAM politicians have expressed their shock and sadness after their colleague, Labour MP Jo Cox, was killed after being attacked in her constituency yesterday.

The 41-year-old Labour MP for Batley and Spen, died after being stabbed and shot in the attack on Market Street, Birstall.

A 52-year-old man was arrested near the scene, West Yorkshire Police said.

The events have led to calls for the safety and security of MPs to be reviewed and police forces were said to be issuing advice to local MPs.

Local MPs, councillors and politicians also spoke about their shock following the news of the mother-of-two's death and gathered with the wider community at Oldham Parish Church from 10am today to remember Ms Cox and her young family, say prayers and light candles.

Jim McMahon, MP for Oldham West and Royton, said he was "sick to the stomach" after learning of Ms Cox's death, adding his thoughts are with her family and friends.

Oldham East and Saddleworth MP Debbie Abrahams tweeted: "Dear Jo as [husband] Brendan has said, in your memory, we will unite in love & peace not hate. Thanks for all you did for so many. Xxx"

Angela Rayner, MP for Ashton-under-Lyne (including Failsworth) tweeted a picture of herself with Ms Cox at a fundraiser and wrote: "Absolutely devastated at Jo Cox death, a beautiful person, a wonderful caring and decent person, R.I.P. friend."

George Osborne last night cancelled a speech focused on the EU referendum and instead paid tribute to the Labour MP at the annual Mansion House dinner, saying Mrs Cox had died "serving her constituents, serving our democracy".

He said: "The referendum is a great exercise in democracy. But the campaign has been suspended, on both sides, out of respect for Jo and her family ­- and for that democracy that she served.

"One of the virtues of our parliamentary democracy is the everyday accessibility of MPs to the people they represent.

"It's what makes the way we govern ourselves very different from many others."

He also re-iterated the words of Ms Cox's husband Brendan, who had said that she would want people to "unite against the hatred that killed her."

"We believe in freedom, liberty and justice.

"Today's horrible events are an assault on all of these values."

Campaigning for Labour's Greater Manchester Mayoral candidate race were also suspended following the announcement.

Tony Lloyd, Interim Greater Manchester Mayor and Police and Crime Commissioner said: "Shocked and saddened by the death of Jo Cox. My thoughts remain with her loved ones at this terrible time."

In an earlier message he said: "It is shocking that somebody going about their business has faced this kind of sickening violence."

Fellow Prospective Labour Greater Manchester Mayor candidate Ivan Lewis tweeted: "Jo Cox changed the world for mums at risk of dying during childbirth Syrian refugees.

"We pray for her family and must learn from her humanity."

Paul Nuttall, North West MEP said: "My condolences to the family of Jo Cox. My thoughts are with her family and friends."

Royton South Councillor Amanda Chadderton said: "There are no words to describe the horrificness and senselessness of Jo Cox's death. Thoughts with husband and children. Absolutely tragic."

Councillor Zahid Chauhan, for Alexandra Ward, said: "A true public servant who not only served all her life to the public,but given her life serving the public #RIPJoCox"

Saddleworth North Lib Dem Councillor Garth Harkness said: "RIP Jo Cox Mp. Thoughts and prayers with her family and friends right now."

Following the attack, a social media campaign began urging people to thank their MP for the work they do representing their constituencies under #thankyourMP.