Politicians in tribute to slain Labour MP
Reporter: Jacob Metcalf
Date published: 20 June 2016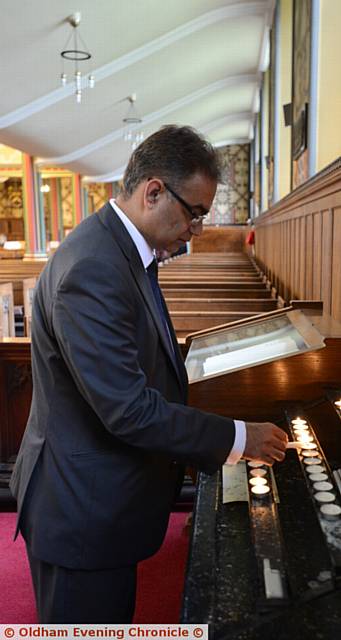 Prayers at Oldham Parish Church for murdered Labour MP Jo Cox. Pic shows Cllr. Ateeque Ur-Rehman lighting a candle.
OLDHAM politicians paid a poignant tribute to Labour MP Jo Cox who was killed last week - and also raised concerns about the safety surrounding politics.

Politicians and the public came together to pay their respects to the mother of two (41), who was killed after being attacked in her constituency, at a vigil held in Oldham Parish Church on Friday.

Oldham West and Royton MP Jim McMahon, Oldham East and Saddleworth MP Debbie Abrahams and council leader Jean Stretton were among those who attended.

Mrs Cox (41), Labour MP for Batley and Spen, died after being stabbed and shot in the street. A 52-year-old man was arrested near the scene.

Threaten

The shocking events have raised concerns surrounding the safety and security of MPs, with Mr McMahon suggesting things wouldn't be the same again in light of the attack.

The MP said: "There is no doubt that the job we are in puts us in the public eye and there is negative attention that comes with that, whilst suggesting police needed to take threats more seriously.

"We have a responsibility to our families and to the staff in our offices.

"People will threaten you via social media and a lot of that is people doing it for attention, but there are too many incidents where people step over the line and I feel sometimes the police are slow to respond. When you get people who have mental illnesses and when they become the perpetrators of abuse and harassment, it feels that the police don't know how to respond.

"Any sense politics will be normal, they absolutely won't be. Any thoughts it will be business as usual, it just won't be.

"Jo was one of those people whose energy was magnetic. When you met her you felt like you had known her forever.

"I woke up this morning feeling guilty that I had my son and how these two young children will not have a mother any more."

Former mayor Councillor Ateeque Ur-Rehman also paid tribute to Mrs Cox and agreed security was now a concern for MPs. He said: "Everyone agrees Jo was a beautiful human being and an exceptional Member of Parliament and a true activist of her constituents.

"Everything I have read and heard about Jo shows how wonderful a person she was and this is a great loss not just for the people of her constituency, but for the country.

"I think the Government should seriously think about the security around the members of Parliament. I hope a serious review will be taken and procedures put into place to protect people from these sort of extremist attacks."

Debbie Abrahams, MP for Oldham East and Saddleworth, said: "One in five MPs have had concerns for their safety at some time or another, including me.

"However we must remember that it's the accessibility of MPs to their constituents that is such an important part of our democratic process and that's not something we should lose sight of.

"Ninety nine point nine per cent of people are throughly decent and respectful; even if they disagree with you. So it's important we don't change how we interact with the very people we represent whilst we take the time to reconsider our approach to the safety and wellbeing of MPs and our staff."

Paying tribute to Jo Cox, she added: "Jo was a dear friend and colleague who always lit the room up with the sheer force of her personality. She had a real love for life and a wonderful sense of fun.

"She was in politics because she wanted to make the world a better place having worked in many countries across the world where conflict and injustice are rife.

"My thoughts are with her husband, Brendan, and her their two young daughters at what must be the darkest of times for them."