Out we go: Oldham votes 61-39 to leave
Reporter: Alex Carey
Date published: 24 June 2016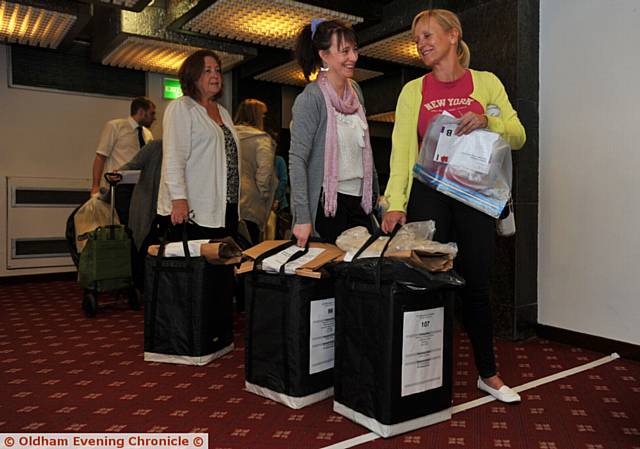 THE ballot boxes arrive at the QE Hall for the Oldham count
IN A VOTE that saw the nation back Brexit, Oldham overwhelmingly wanted out of the Europe Union (EU) with 61 per cent of the borough voting Leave.

Oldham voted for Britain to ditch the EU with 65,369 choosing to leave, against 42,034 voting to remain (39 per cent), with 90 ballot papers rejected.

The result was declared at 3.07am and Oldham's turnout was 107,493, which was 67.99 per cent of the electorate - below the country's national average.

Oldham East and Saddleworth MP Debbie Abrahams says the result is devastating and fears what impact it will have on Britain's economy, particularly the 14,000 Oldham jobs tied to the EU.

Speaking to the Evening Chronicle, Mrs Abrahams said: "I'm not surprised at the Oldham result. I said yesterday that I expected it to be 60/40 leave based on what we have been finding in the last weeks and months.

"I knew it would be close nationally but we thought we would just pull through.

"It's a devastating result in terms of what it will mean for the country. We now need to take stock to know what it exactly it means for us now.

"The consequences of this are so profound.

"Communities like Oldham feel under a lot of pressure in terms of public services, pressure in terms of difference and integration and in terms of what it means for jobs.

"Often immigration is used as a symptom of underlying unease but I think this reflects where we are after years of austerity in areas like Oldham and the pressure that has put on people. I think the result is a symptom of that.

"I think it reflects that people are on the brink. It reflects the real difficulties people face and struggling for years under austerity.

"I believe in Europe, I believe in immigration."

In Greater Manchester, Manchester, Stockport and Trafford voted to remain. Tameside, Rochdale, Oldham, Salford, Wigan, Bolton and Bury voted to leave.

In Rochdale, 62,014 voted leave and 41,217 voted remain.

Greater Manchester voted to remain in the EU by 53 per cent to 47 per cent. In total 708,032 people wanted to go and 616,359 to stay.

Triumphant Oldham MEP and UKIP deputy leader Paul Nuttall has celebrated the result.

He said: "This is a momentous day which will go down in the annals of history. It is the day we got our country back and put the Great back in to Britain.

"We now have the chance to take control of our own destiny and borders and we can be good neighbours with the European Union rather than tenants," said Mr Nuttall, MEP for the North West.

"I always believed that we could do well vote to leave but the margin has been tremendous and in the North West it was almost two to one to quit the EU - a fantastic result.

"The result of this referendum will shape the direction our country will take in the first half of this century. We will be outward looking rather than inwards."

Oldham West and Royton MP Jim McMahon said: "The results in Oldham were broadly as we expected and the number of people who turned out to vote is good for democracy.

"I campaigned to Remain in the EU because I felt strongly that the alternative hadn't been made clear and if there was to be a shock to the economy, Oldham would be hit far harder than many other parts of the U.K.

"As we reflect on the result of the referendum I need to focus on making sure that in what are now uncertain times Oldham's interests are protected.

"We can not escape the real concerns local people have about low wages, job insecurity, reducing public services and the added pressure immigration has brought on those struggling to make ends meet.

"The Government called this referendum at a time when they slashed vital services. The Prime Minister gambled and lost."