No place for hate in post-Brexit Oldham
Reporter: Jacob Metcalf
Date published: 30 June 2016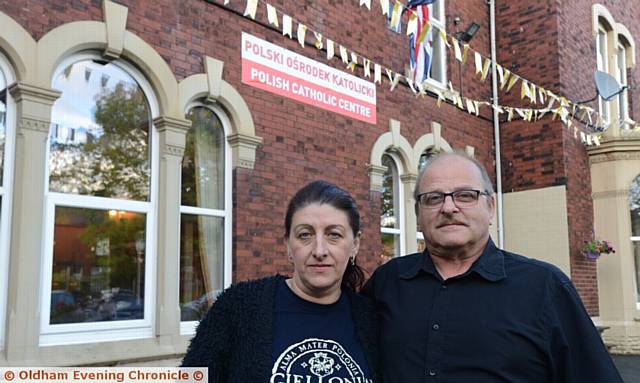 PLEA for calm . . . Teresa and Tony Kurkiewicz, of the Polish Catholic Centre
CALLS for unity have rung out across Oldham following rising tensions in local communities after the Brexit campaign's victory in the EU referendum.

The rallying cry comes after reports of incidents relating to xenophobic and racist abuse since voters decided to quit Europe.

Chairman of the Polish Catholic Social Club on Chamber Road, Oldham, Tony Kurkiewicz feels now is the time to show a united front as a community.

Tony said: "Everybody has to pull together. People should be united as one and not break away from each other, at the end of the day we all have to live together. This community should be united with everyone and stop racial hatred."

The Chronicle reported yesterday how an incident on a tram in Manchester city centre led police to arrest two men aged 20 and 18 and a 16-year-old boy.

Disturbing video footage which surfaced online shows one of the perpetrators shouting "Get back to Africa" at Juan Jasso, a lecturer at Manchester Metropolitan University who has lived in the UK for 18 years. MP for Oldham East and Saddleworth, Debbie Abrahams, has urged the public to pull together and show respect for all in the aftermath of the referendum.

She said: "Following a really fractious, and frankly dishonest campaign by those wanting to leave the EU, tensions are already simmering in some local communities. We, as leaders, must act to contain the situation.

"I'm appealing to the public, in Oldham and beyond, to pull together and help to keep the situation calm.

"We must continue to show respect for everyone across all communities as the country works its way through the complexities of withdrawing from the EU, and, a situation in danger of becoming a national crisis if we're not careful."

"The leaders of the Brexit campaign clearly have no plan and David Cameron has abdicated from any responsibility of taking charge.

"As a result, in the vacuum that's been created, tensions are rising and I have been extremely concerned by reports from around the country of people being threatened because of their nationality or race.

"I am proud of our diverse and inclusive community and believe we must all pull together and act quickly to ensure that any incidents are reported and investigated, public order is maintained and that no-one feels threatened or intimidated."

Greater Manchester's Mayor and Police and Crime Commissioner Tony Lloyd also condemned the racist attacks following the referendum.

He said: "We are now starting to hear stories of people being abused because of their race, religion or nationality. There is no room in Greater Manchester for hatred and division.

"We have worked hard, together, to build strong, cohesive, and welcoming communities.

"Hate crime has no place in our society. The overwhelming majority of British people stand together against hatred and prejudice.

"These acts of racism are not in our name and will not be tolerated."

Oasis Academy Oldham raised concerns about the vulnerability of children following the vote and has vowed to ensure children who are international new arrivals be supported.

A spokesman said: "Our biggest concern is for our young people and ensuring that all of our children, particularly the most vulnerable, and those who are international new arrivals are well supported and feel included in the life of our school and community.

"We will work hard to ensure the recent vote does not make them feel unsettled or be a distraction or a disruption to their education."

The referendum result has left some members of the Polish community terrified of what the future now holds for them.

Olga Kizizaniak (30), owner of the chain of Polski Sklep on Lees Road, Oldham, said: "They haven't got anything at home to go back to.

"They don't know if their children will be able to go to school here, they don't know yet what are the requirements.

"There is a lot of fear because British passports are expensive.

"If people come here with their whole family ­- two adults, two children ­- working on minimum wage they won't be able to afford passing tests and the passports."

Shopworkers' trade union Usdaw condemned discrimination as a result of the vote and stated that the leave outcome did not mean EU nationals had lost their right to live and work in this country.

John Hannett, Usdaw General Secretary, said: "It is deeply disturbing that some people have taken the vote to leave the EU as a green light to abuse others who they believe don't have the right to be in the country.

"That is utterly unacceptable behaviour and needs to be stamped out immediately."