'It is a world public health scandal'
Reporter: Lucy Kenderdine
Date published: 07 July 2016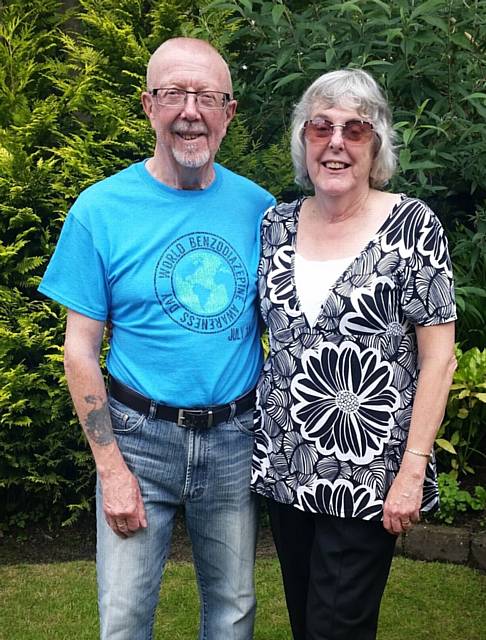 Barry Haslam and wife Sue promoting World Benzodiazapine Awareness Day on July 11
A CAMPAIGN against the long-term prescribing of benzodiazepines founded by an Oldhamer has received support from across the globe ahead of the first international awareness day for the issue.

World Benzodiazepines Awareness Day, a campaign designed to highlight the problems facing patients affected by taking the prescription drugs, was set up by Barry Haslam, former chairman of Oldham Tranx.

With the help of contacts from around the world, the awareness day on Monday has seen hundreds of people sign up to take part and share their stories in a bid to bring the issue to the attention of health organisations and governments.

Barry (73), from Uppermill, said: "World Benzodiazepines Awareness Day seeks to raise global awareness about the severe problem of doctor-induced (iatrogenic) benzodiazepines drug dependence that continues to affect millions of innocent people worldwide.

"Global governments have allowed the problem to quietly spiral out of control for decades, creating a problem so large, that there is no political will to address it.

"Consequently, millions of regular, everyday people are left to suffer needlessly in the dark, without any understanding or access to appropriate care or support.

"Oldham has had 'best practice' dealing with this public health problem since 2005, led by the forward thinking Mr Alan Higgins, Lady Rhona Bradley and Dr Ian Wilkinson and this should be replicated everywhere."

The campaign is close to Barry's heart after he suffered permanent brain damage and a ten year total loss of memory following long-term prescribing of high dosages of Ativan/Lorazepam for depression.

After finding the strength to stop taking them and suffering withdrawal almost 30 years ago, he has campaigned tirelessly against the long-term prescription of the drugs.

Barry continued: "Our campaign on social media has met with great success and we now have two promotional videos with a third one in the offing.

"Those giving evidence on the videos cover 14 countries and interest continues to grow daily. It really is a massive world public health scandal."

His fight and the international awareness day has also been heard by local MPs, health organisations and bodies around the world.

Debbie Abrahams, MP for Oldham East and Saddleworth, said: "Oldham is lucky to be home to committed campaigners, who have for many years highlighted the appalling damage that over-prescribing benzodiazepines has had on many people.

"As a result of their efforts, Oldham has one of a handful of dedicated withdrawal facilities in this country - a service that I believe should be replicated nationwide. I hope the awareness day helps drive the campaign for improving services globally."

For more information visit the Facebook page "World Benzo Awareness Day-July 11th".