MP backs Andy for new mayor
Reporter: Richard Hooton
Date published: 19 July 2016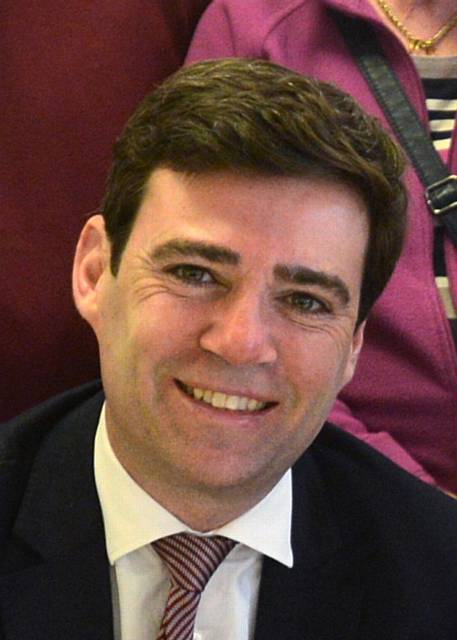 HAT IN the ring... Shadow Home Secretary Andy Burnham wants to be Mayor of Greater Manchester
OLDHAM and Saddleworth MP Debbie Abrahams is backing Andy Burnham for mayor of Greater Manchester.

As ballot papers are sent out to Labour Party members for them to choose their candidate, Mrs Abrahams officially declared support for her shadow cabinet colleague and MP for Leigh.

The new mayor will head-up the devolution deal given to the whole city-region, including Oldham and Saddleworth, mirroring the role of mayors in London and other devolved areas across the country.

Mrs Abrahams said: "The new Greater Manchester mayor is not just another civic role. The candidate we select will almost certainly go on to represent Greater Manchester on the national and world stage.

"So we need someone with leadership skills and experience, someone who has operated at a senior government level, someone with strong Labour values and the integrity to hold such a position.

"I have known Andy for many years, well before I became MP for Oldham East and Saddleworth, and in 2007, when I was chair of a NHS trust, he listened to my concerns about creeping privatisation in the NHS. As a result, in 2009, as the new health secretary, he made the NHS the 'preferred provider', to limit the role of the private sector in the NHS.

"Whilst Andy supports the principles of devolution he also recognises the challenges including a £1bn black hole in Greater Manchester's finances created by this Tory government. But Andy has a record of standing up for people and he will fight for the right deal for Greater Manchester. Andy's commitment and action to tackle inequalities is second to none and he has pledged to set up the Greater Manchester Fairness Commission.

"As mayor, Andy has said he will create the country's first National Health and Care Service here in Greater Manchester bringing social care out of the private sector and in the public NHS.

"Among his policy priorities Andy plans to build more council and social housing in all ten boroughs, set a new goal for an affordable home for all, and commit to end homelessness across the city region.

"He's also said he will create a truly integrated public transport system which serves all of our areas with free bus passes for all 16-18 year olds in full time education and training and break down the barriers between technical and academic education and push entrepreneurialism.

"Those who have met Andy on his numerous visits to Oldham and Saddleworth will have heard him discuss his vision of Greater Manchester as a beacon of social justice and how he will put accountability at the heart of what he does. To achieve this he's planning a regular Public Question Time, enabling councillors to call in key decisions made by the mayor for scrutiny and the introduction of mayoral e-petitions to allow the public to raise issues for debate."