Young voters discuss Pokémon and politics
Reporter: Sebastian Ellis
Date published: 28 July 2016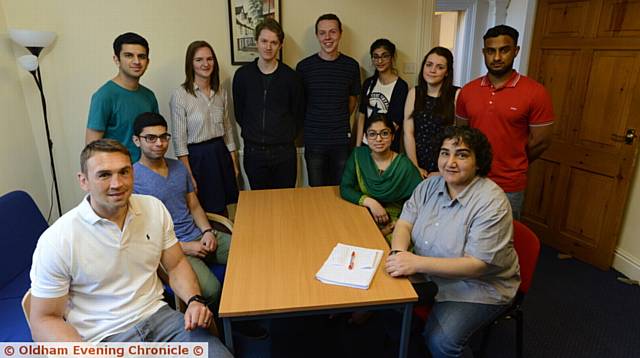 Kevin Sinfield, left, and refugee Marzia Babakarkhail, right, meet students at the summer school
POKEMON Go can encourage young people to vote according to two groups of 18-24 year olds taking part in an Oldham MP's summer school.

The idea was discussed on day three of the school, during a task aimed at producing a public relations campaign in the event of a snap general election, with specific reference to looking at increasing the percentage of the younger voter.

Both groups involved seized on the opportunity to exploit the success of Pokémon Go, taking advantage of its use of GPS to potentially lead voters towards polling booths on election day, or stunting progress in the game until the player has registered to vote.

Pokémon Go is a free-to-play location-based augmented reality mobile phone game, which uses a phone's camera and GPS to allow a player to capture, train and battle virtual creatures. The Pokémon appear on the mobile device screens, as though they were in the real world.

Oldham East and Saddleworth MP Debbie Abrahams has held a work placement summer school every year since 2014 and the initiative shows ever-increasing signs of popularity due to its aim of inspiring confidence and resilience.

The third day of the 'Working for your Community Summer School' saw participants listen to an afternoon talk on communications from the Chronicle's business editor Robbie MacDonald (47) and public relations expert John Ramsden (52).

The first two days had seen nine 18-24 year olds get involved in political workshops in Mrs Abrahams' office. This was followed by a trip to Westminster, where they saw the workings of parliament, before meeting Greater Manchester mayor hopeful Andy Burnham.

On day three, the morning was spent by participants listening to former rugby league player Kevin Sinfield and Afghan refugee and women's rights activist Marzia Babakarkhail, whose completely different paths were brought together by equally inspiring talks.

Debbie Abrahams said: "Having Kevin and Marzia agree to appear together as guest speakers at the summer school is a fantastic coup for us.

"Their stories may be very different but the examples they can give to our young participants about how you can build your strength and resilience to achieve your goals is priceless."

In the afternoon, Robbie and John talked about their career paths within communications and the media before splitting the participants into two groups. The task was for the groups to come up with a project outline for a public relations campaign in the event of a snap general election, specifically aimed at targetting 18-24 year old voters in the Oldham borough.

Ideas, including the Pokémon suggestion, were resoundingly positive, with everyone understanding the importance of being current whilst also appealing to the interests of a variety of voters.

Usama Hayat (18) from Clarksfield said: "I first got into politics when I was 16. But in the past year with the general election and the EU Referendum politics is everywhere, and that has just made me even more interested.

"The reach from social media makes it so easy, all it takes is something like a retweet and you can see the opinion of a friend or celebrity."

Ryan Hobson (21), from Hollinwood, said: "I got involved because I wanted to become more aware about how politicians operate. It shows that young people do have an interest in politics and that's why the school's so important."