Pride delivers colour
Reporter: Iram Ramzan
Date published: 01 August 2016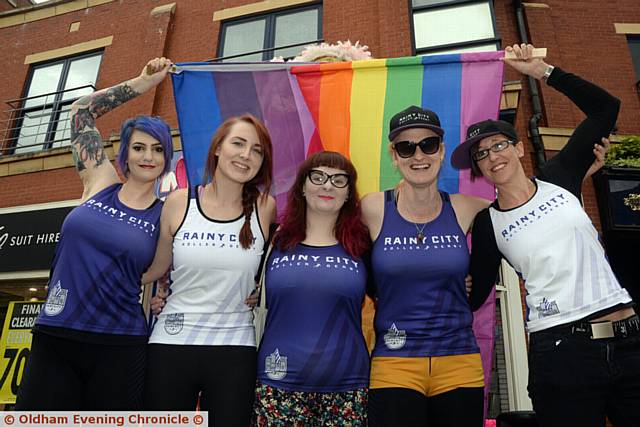 Photo: Tim Bradley
Oldham Rainbow Pride. Roller City, Roller Derby girls (l-r) Janine Bailey, Emma Lyskava, Em Whetham, Rachel Gordon and Helen Jones.
Scroll down for Video
THE church bells were ringing and the sun was shining down on all those who came to celebrate Oldham Pride on Saturday.

Both adults and children, men and women, proudly waved the rainbow flag in their solidarity for LGBT people against hate and intolerance.

A colourful and larger than life parade, led by Greenfield Band, started out in Oldham town centre, outside the Up Steps Inn, shortly after noon, before making its way to Manchester Chambers.

There, Oldham East and Saddleworth MP Debbie Abrahams and Oldham's mayor Derek Heffernan also lent their support to LGBT communities across Oldham, paying tribute to the 49 people who were murdered in a gay nightclub in Orlando, Florida in June.

There was music, food, drinks and a jovial atmosphere for all to enjoy.

George Campbell, chairman of Oldham Rainbow Association, said: "The message for this year's event is that there's no place for hate, any sort of hate - sexual, racial, religious.

"Any sort of abuse. It's a crime and needs to be dealt with.

"It's not just about stamping it out. It's about letting people know what support is out there, and they're not on their own. If they're being abused we need to know about it.

"This is a fun and different way of getting the message across. We can put an advert in the newspaper or on the radio but this is different.

"It's more of a celebration. People will hopefully take the message home and remember it."

This year's Pride was historic as it was the first time that the bells of Oldham Parish Church rang in support of the event.

Rev Derek Palmer, from Oldham Parish Church, said: "The bells of the church were ringing. If Manchester Cathedral can do it for Manchester Pride then Oldham can do better.

"We celebrate Oldham Pride to accept all the advances made over the past years for equality and diversity

"The bells can ring for a straight couple's wedding but not for a gay couple. We have got a lot to do."

Oldham Council leader Jean Stretton said: "I come to Pride every year. I have been to every single one to support the LGBT community in Oldham and beyond.

"It's a fantastic event every year - there is lots of music, lots of fun.

"Lots of people enjoy themselves and long may it continue."

Shortly before midnight there was a candlelight vigil in George Square in honour of LGBT people who have lost their lives in hate crimes, after which there was a party lasting until the early hours.

Tracy Heyworth-Lodge, from Oldham, came to the event with her wife Kathryne as well as their friends.

Tracy, 43, said: "It's a fun event. There's no place for hate for anybody. It's just everybody getting together, all being one.

"There are no kick-offs, no fighting. Everyone is is having a nice time, drinking and enjoying the acts."

For mother and son Christine and Chris Hogan, this year was the first time they had decided to come a Pride event.

Christine, 59, said: "I came here to enjoy the parade, to enjoy a get-together.

"The atmosphere helps people understand the message that everybody is one. We're all one.

"This is the first time I've been. This year I thought I'm going to the Pride and enjoy it.

"The parade was lovely but it would have been nicer if there were more people."
Check out many more pictures on our

Picture Sales page. Search for Oldham Rainbow Pride.