Clerics who hailed killer at mosque
Reporter: Iram Ramzan
Date published: 16 August 2016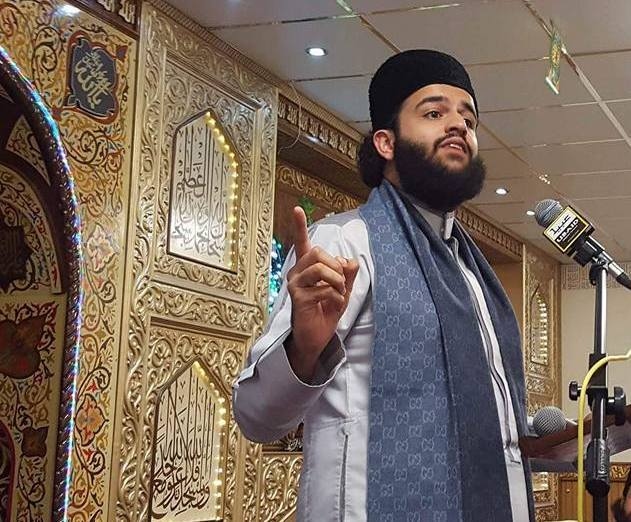 Pakistani clerics who praised an Islamist assassin in Pakistan were allowed to speak at a mosque in Oldham. Pictured is Hassan Haseeb ur Rehman
CONTROVERSIAL Pakistani clerics who praised an Islamist assassin in Pakistan were allowed to speak at a mosque in Oldham last week.

Muhammad Naqib ur Rehman and Hassan Haseeb ur Rehman spoke to a large gathering at Madina Mosque and Islamic Centre in Clydesdale Street, Coppice, last Thursday and Friday as part of their seven-week UK tour, Sacred Journey, which runs until September 4.

After Oldham they went on to speak at mosques in Rochdale and Rotherham

The clerics led a high-profile campaign in Pakistan in praise of Mumtaz Qadri, who was executed in January after murdering Pakistani politician Salman Taseer in 2011 for opposing Pakistan's strict blasphemy laws.

Qadri had claimed it was his religious duty to kill the Punjab governor.

Funeral
In a social media post after Qadri's execution, Haseeb ur Rehman said: "Every person who loves Islam and Prophet is in grief for the martyrdom of Mumtaz Qadri."

Several videos on YouTube showed the clerics urging people to attend Qadri's funeral, which they also attended in Rawalpindi, Pakistan.

They repeatedly referred to Qadri as "shaheed" (martyr).

Between 15,000 and 100,000 people attended Qadri's funeral, shrieking slogans such as "Qadri, your blood will bring the revolution" and "The punishment for a blasphemer is beheading".

Fierce riots ensued in Pakistan after Qadri's execution.

Last month, after arriving in the UK, Muhammad Naqib ur Rehman was welcomed at Lambeth Palace by Archbishop of Canterbury Justin Welby.

The pair discussed subjects including countering "the narrative of extremism and terrorism" and interfaith relations.

Shahbaz Taseer, whose father was murdered by Qadri, criticised British authorities for allowing the clerics into the country.

He told a newspaper: "These people teach murder and hate. For me personally I find it sad that a country like England would allow cowards like these men in.

"It's countries like the UK and the US that claim they are leading the way in the war against terror [and] setting a standard. Why are they allowing people [in] that give fuel to the fire they are fighting against?"

The Home Secretary has the power to ban people from the UK if their presence is deemed to not be "conducive to the public good."

Former Home Secretary and now Prime Minister Theresa May used these powers to ban US bloggers Robert Spencer and Pamela Geller from entering the country, as well as controversial Islamist preacher Zakir Naik.

Geller and Spencer co-founded anti-Muslim group Stop Islamisation of America.

Venues

The Chronicle spoke to imam Zahoor Chishti, from Madina Mosque and Islamic Centre in Coppice.

He said the event was not organised by the mosque itself but by the clerics' team. He said he did not know who approved the decision for the pair to speak at the mosque.

Speaking about the two clerics, imam Chishti said: "They have got hundreds of thousands of followers in the UK.

"Several followers and disciples of theirs contact people and ask if they could use their venues.

"If they are approved it's got nothing to do with the imam or preachers here.

"I was at the event for a short while, just to show my face.

"It looks very bad in the community if the imam is not there."

When asked if he was aware of the clerics' comments about Qadri, he added: "On a personal level I didn't know what they believe.

"When I found out I was upset. I think it was really upsetting and wrong.

"They come to the UK every year and give messages of love, so that's why they're booked on that basis.

"I think this will change how things are organised at the mosque. They should take better precautionary measures."