Golden wonders
Reporter: Simon Smedley
Date published: 22 August 2016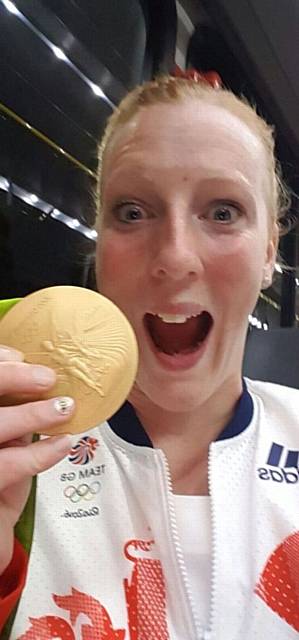 GOLDEN moment for Nicola
NICOLA White has revealed that she couldn't have achieved her Olympic golden dream without the support of her proud mum Gill and family, and the people of Oldham.

The town's newest sporting heroe wrote her name into the history books on Friday night when she and her team-mates won gold in the hockey tournament, edging to victory in a dramatic final shoot-out against previous champions Holland in Rio.

Of course it was the ultimate of sporting dreams come true for 28-year-old Nicola, but one she couldn't have realised with her cherished home support.

"Standing on that podium with my gold medal and all my team mates singing the national anthem was the dream, and now it's reality," Nicola told the Chronicle.

"I'm speechless.

"However, this all couldn't have been achieved if it wasn't for my very supportive mum and family. My journey from playing at school to playing for my country takes commitment over many years.

"You also have to remember that I may have the talent, but many people along the way have had massive influences in my career.

"From school teachers to club, county and regional coaches, it's all a learning curve that started my passion and love for hockey, and this gold medal is for everyone who has helped me on my way to the top.

"I feel very lucky to have the amazing support from the people of Oldham, and would like to thank the local businesses that have supported me on my journey.

"I am hoping to get back home sometime this week to have a quiet celebration with my family, before heading off for a well-earned holiday and rest.

"After that I will come back and share my amazing memories of Rio with you all."

Nicola, who contributed three goals on the way to helping Team GB to golden glory - including one in Friday's final - is sure to see her life change from now on.

Nicola said: "We put our heart and souls into all those games taking one game at a time. Our preparation has been perfect, but we still cannot quite believe the enormity of what we had just achieved."

Nicola's hockey cv was already a hugely impressive one.

The former Hulme pupil's first major tournament medal was a bronze, secured while representing England at the 2009 European Championships in Amstelveen, Holland.

She won that bronze medal at London 2012, while White netted a silver for Great Britain at the 2012 Champions Trophy showpiece in Rosario, Argentina.

Representing England, she has won Commonwealth Games silver (2014) and bronze (2010), while also adding a World Cup bronze, a Champions Trophy bronze, and a gold (2015), silver (2013) and further bronze (2011) in the European Championships.

The former Loughborough College Sport Science student currently plays domestically as a forward for Holcombe in the Investec Women's Hockey League Premier Division, having previously played for Slough and Leicester.

Meanwhile, praise from across Oldham has been ringing out.

Oldham's Olympic silver medallist in the Rome Olympics, high-jumper Dorothy Emerson said: "It is a great, great, great achievement for the game of hockey generally and especially locally with Nicola's input.

And Oldham Council has confirmed it will look to honour her as a local sporting hero.Council leader Jean Stretton said: "I could not be prouder! Nicola is an amazing hockey player - and great ambassador for Oldham.

"She is a local hero and we'll definitely be having discussions on how to honour her and be looking to make contact with her as soon as she is back from Rio."Oldham West and Royton MP Jim McMahon said: "Big congratulations to Oldham's Nicola White.Debbie Abrahams, MP for Oldham East and Saddleworth, said: "What an amazing achievement!Voluntary Sport Oldham added that her achievement could inspire a new generation to take up sports. "Nicola White, you've made Oldham proud! You will no doubt inspire a generation."And Oldham Hulme Grammar School, Nicola's former school also joined in the celebration saying: " Your old school is very proud of you!"

Oldham Athletic FC added: "Congratulations to our very own Nicola White and the Team GB women's hockey team."