Hub renamed in memory of Nicola
Reporter: Ken Bennett
Date published: 06 September 2016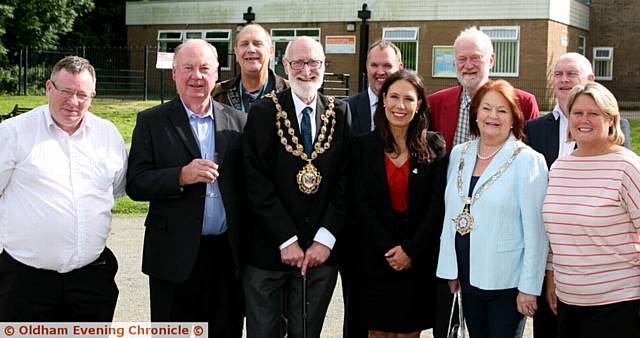 IN memory of Nicola . . . (front, from left) Councillor Steve Hewitt; Tony Burke, president of Saddleworth Rotary Club; mayor of Oldham, Derek Heffernan; MP for Oldham East and Saddleworth, Debbie Abrahams; Pam Byrne, chair of Saddleworth Parish Council and Nikki Kirkham, vice-chair of Saddleworth Parish Council. Back: Councillor Adrian Alexander; Richard Bartlett, Saddleworth Rotary; Mike Rooke, secretary for the committee for the sports centre; and Bryn Hughes, father of PC Nicola Hughes.
A YOUNG policewoman who died in the call of duty is to have a newly-reopened community centre named in her memory.

The original centre will be renamed the Nicola Hughes Satellite Centre when the premises officially reopens in Wellington Road, Greenfield, later this month.

The news was revealed when delighted teams from dedicated community groups met with VIPs to celebrate the signing of a one year lease to operate the centre.

Greenfield and Grasscroft Residents' Association (GGRA) campaigning with youth group YOLO, came together with Saddleworth Rotary Club, local sports groups and Saddleworth Parish Council to form a group of trustees to take over the centre.

And now the fledgling Saddleworth Sports, Youth and Community Association (SSYCA), a charitable incorporated organisation, is hopeful for the long-term future.

Richard Bartlett, chair of SSYCA, explained: "Rotary heard the centre was to close and the impact was quite devastating.

"Rob Knotts, a Rotarian and parish councillor, gathered information but we realised reopening the centre wasn't something Rotary could do alone.

Energy

"We're really pleased to be opening the centre to the community once more. We want a centre for everybody. It is going to take a little bit of time and energy but it will be a great thing for the community."

Debbie Abrahams, MP for Oldham East and Saddleworth, praised SSYCA for their commitment to securing the vital centre.

She said: "I am delighted to support the reopening. The centre looks brilliant and provides a great facility for the local community.

"The trustees aim to make this an inclusive centre which benefits all our community and I want to congratulate them and their supporters ­- they have worked very hard to make this happen."

Mayor of Oldham, Councillor Derek Heffernan, added: "This was once a thriving centre and when it closed it was devastating. It is a delight to see it brought back into use for the community to enjoy."

And Councillor Pam Byrne, chair of Saddleworth parish council, said: "I was here for the opening of the Satellite Centre in 1966. It is not often you get to go to two openings of the same building!

"It is great to see all of the community involved in this. I believe it will succeed because the will and enthusiasm are there from everybody."

Earlier in the summer, SSYCA hosted a showcase of free fun activities for young people.

Tony Burke, vice-chair of SSYCA and president of Saddleworth Rotary Club, said: "We had a myriad of people of all ages who took part or just simply dropped in to offer their support.

"The showcase was a real success and a platform for future plans."

The Satellite Centre is now open and taking bookings from local groups and clubs for all ages and activities. They will be launching a new website soon with more details.

PC Nicola Hughes, from Diggle, was murdered in a gun and grenade attack while on duty in 2014.