Heritage site looks fabulous
Reporter: Rosalyn Roden
Date published: 20 September 2016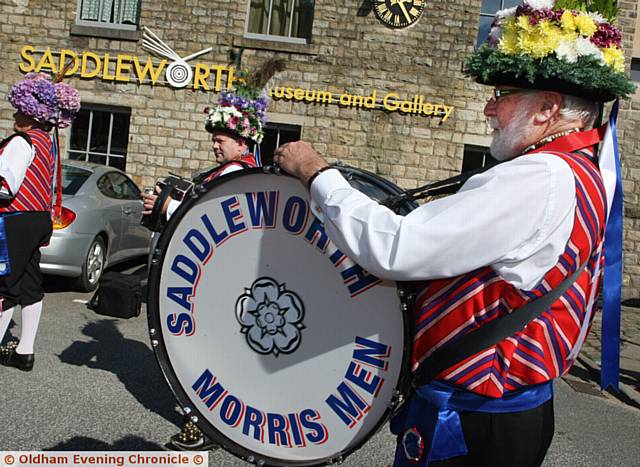 Saddleworth Museum, Uppermill, Oldham, reopens. Pic shows, the Saddleworth Morris Men dancing outside the museum before the opening.
SADDLEWORTH Museum has reopened after a £1.25m refurbishment.

Visitors were welcomed into the transformed building in Uppermill High Street on Saturday after its year-long closure.

Residents were taken on tours of the renovated site, while children engaged with interactive activities during the 1pm to 4pm opening.

Saddleworth Morris Men set off the proceedings, followed by the official reopening of the 150-year-old building. Oldham Council said on social media: "The Saddleworth Museum reopens today after a £1.25m refurbishment.

"Get down there and have a look."

The site closed to undergo its biggest facelift since 1797, made possible with a Heritage Lottery Fund.

Masses of homemade bunting was put on display to brighten the building on open day.

New interactive displays were used by visitors for the first time, while museum volunteers donned Victorian costume for the event.

Saddleworth Group of Artists previewed their work in the gallery and the shop's makeover was showcased for the first time.

A Saddleworth Craft Workshop spokeswoman who styled the shop for the occasion said: "There were lots of amazing activities for the family and a beautiful refurbishment.

"The amazing diversity of the past residents and their influence on world history for such a small area is awe-inspiring. I styled the shop up and the cabinet had samples from the craft workshop hosts."

Extension

The museum's Into the Future project incorporates an extension at the front of the building, including an atrium with a scaled replica of Saddleworth Morris Rushcart, a new side entrance, large lift, toilets and shop extension.

Spotlights have also been installed inside the galleries, with residents now able to enter the area rooms rather than looking in from doorways.

Sir Norman Stoller CBE will conduct the official opening on November 6.