Award-winning park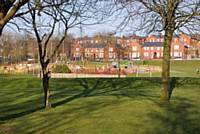 Click to zoom
Stoneleigh Park is a public park occupying about nine hectares. The site has ornamental gardens and sports facilities, with a pavilion, a playground, two bowling greens and tennis courts, as well as a senses garden, teen shelters and floodlit multi-games courts.
The site was bought by Oldham Council in 1933 and opened as a public park in 1938. It has regularly won Green Flag Awards since about 2001.
Friends of Stoneleigh Park, originally set up in 1992, was reformed in 2007 through a partnership involving Groundwork Oldham and Rochdale, Community Links and a committed group of residents.
The Youth Service bus also visits the park to encourage teenage participation and divert them away from other anti social activity. Park Pride security also operates at times when the full-time gardener is not present during the evening and weekend ensuring a feeling of security is maintained and contact is available at times of need.
Click here to visit our page on Facebook for all the latest news and events!