Want to sing?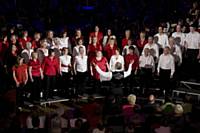 Click to zoom
The Oldham Council Music Service has established a community-based music group called the Oldham Community Pop Choir. Here is our performance at the Christmas Festival concert in 2009:
Who is it for?
The choir is designed to meet the needs of a wide age group, ranging from 14-year-olds to retired adults.

The musical repertoire is all based on arrangements of pop and rock music from the 1960s right through to present day material. The project leader, Martin Ashurst, has a long track record in the field of popular music, and under his training and leadership there will be a place for everyone.

In Martin's own words: "This choir is about music-making for pleasure mixed in with some good old fashioned socialising. I'm also very keen to involve families and friends of all ages in an attempt to bring people closer together.
We are not looking for trained singers; we are simply looking to attract ordinary people who want to give it a try."
Where?
The choir meets every Monday night from 7pm to 9pm in St. Mark's Church Hall, Heyside, Royton.
Join
There are no auditions required. Get in touch with the Music Service by clicking on the Contact Us button on the left or ringing 0161 770 5660.
Fees
Great value at only £45 per term - around £4.00 per week.

Check out Oldham Music Service's website by clicking on the button on the right.