Dedicated to rock classics!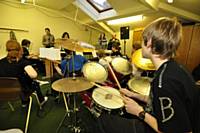 Click to zoom
The Oldham Youth Rockestra features 20 musicians on electric guitars, keyboards and percussion dedicated to performing rock classics.
Who is it for?
All teenagers living in Oldham borough.
The tutors are looking for players with a range of skills, from newcomers with rudimentary musical knowledge right through to more advanced players.
Join
There are no auditions required. Get in touch with the Music Service by clicking the Contact Us button on the left or ringing 0161 770 5660.
Fees
Great value at only £40 per term - around £3.50 per week - with reductions for siblings and those receiving benefits
Check out Oldham Music Centre's website by clicking the button on the right.