Rich heritage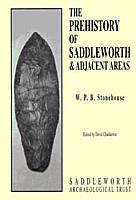 Click to zoom
Saddleworth Archaeological Trust was constituted in August, 1995, to promote and protect the rich archaeological heritage of Saddleworth.
It has made the publication of books relating to the archaeology of Saddleworth its number one priority, and, in 2001, with the aid of a grant from the Heritage Lottery Fund, published two books.

Dr W.P.B. Stonehouse, who unfortunately died prior to completion, wrote the first book The Prehistory of Saddleworth and Adjacent Areas. His work was carried on by David Chadderton and completed ready for publication.

The second book, Roman Saddleworth by Ken Booth, was completed at the same time, and both books were launched at Saddleworth Museum on the 26th October 2001.

Currently the Trust is working on the third book in the series dealing with the Industrial Archaeology of Saddleworth.