Short-term contracts: Decision time looming
Reporter: Matthew Chambers
Date published: 20 October 2016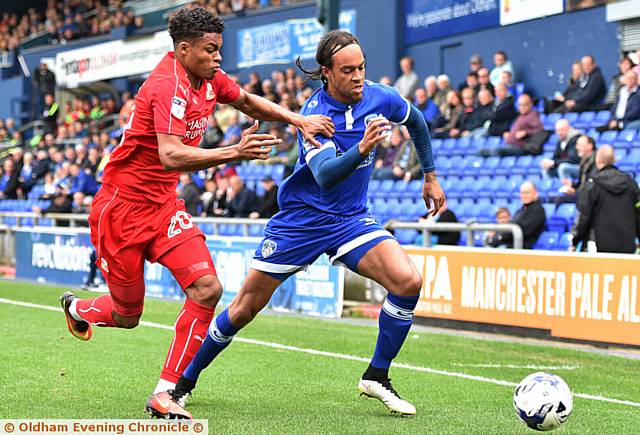 TUSSLE: Athletic's Charles Dunne (right) battles away
CHARLES Dunne is seemingly set to stay on at Athletic when his short-term deal runs out ­- but the club are keen that the seven players whose futures will soon come up for discussion can prove their cases for extensions conclusively.

Left-back Dunne (23) has made 10 appearances for Athletic so far this season, after arriving on a short-term deal to provide cover for Jamie Reckord.

The ex-Blackpool and Wycombe full-back is only with the club until January of next year as it stands.

The same is true of Calaum Jahraldo-Martin and Luke Woodland, who have not enjoyed as much first-team game-time as Dunne.

Lee Croft, currently out with a back injury, is on a half-season deal as well, with the option of extending the arrangement until the end of the campaign.

Croft (31) has proved a useful substitute of late, but of 10 showings in total this term he has made two starts in all competitions under boss Stephen Robinson.

Marc Klok is in the same boat. The Dutch midfielder is only signed up for half a season at present and has played 12 times so far, including six starts.

Fulham defender Cameron Burgess is with Athletic on loan until January 5, while Crystal Palace striker Freddie Ladapo also has a deal that expires early next year.

Both those players are regulars who Robinson would presumably want to retain.

As for the others, though, the manager indicated he will be comparing what he currently has to what is available on the market.

"We have looked at things but haven't discussed extending anyone's contract at this moment in time," Robinson said.

"It is a case of seeing what else is out there as well. We have two loan boys who we will negotiate with and see how it goes further down the line.

"We won't be making any rash decisions. They have all done themselves justice.

'KEEP'

"We will have to sit down with the chairman and see where we go with that.

"When he was in the side, Charles Dunne did extremely well and he would be one we would want to keep.

"But we haven't spoken to him about it.

"Some people haven't had a lot of game time - Calaum Jahraldo-Martin and Luke Woodland - so that's up for discussion and it's for those boys to take it by the scruff of the neck when they do get their opportunity, be it in training, the reserves or the first team, to make our minds up for us."