Fingers crossed for Dunne
Reporter: Matthew Chambers
Date published: 04 January 2017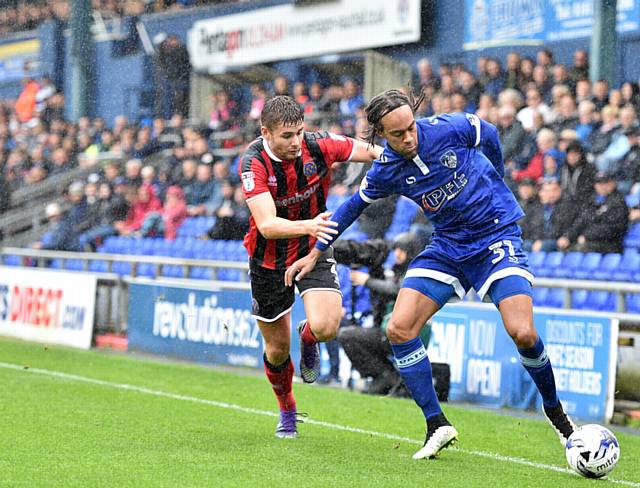 CHECKING IN . . . Athletic are hopeful Charles Dunne will be fit for next week's Trophy clash against Mansfield Town
CHARLES Dunne should be back fighting fit for next week's clash at Mansfield, as Athletic manager Stephen Robinson awaits news on the club's transfer embargo being lifted.

The 23-year-old defender suffered a pelvic injury on Boxing Day and was substituted in the 81st minute. He missed both the New Year's Eve clash at Fleetwood and this week's home draw with Port Vale, but Robinson is optimistic he will be available for the Checkatrade Trophy last-16 tie at Field Mill.

With Cameron Burgess having returned to Fulham at the end of his loan spell - a return is possible, but cannot happen while Athletic are under the Football League embargo - Dunne's comeback would be a boon for Robinson, who revealed that the former Wycombe and Blackpool player has had his short-term deal extended to at least the end of the season by way of an appearances clause kicking in.

"We are hoping Charles will be fit for the next game," Robinson said. "He over-stretched against Sheffield United and has an injury not usually associated with football, so we hope it settles down. It is nothing serious.

"We have a super medical team with Stuart Irwin and the younger boys who work with him, so we are confident we will have him fit and available."

On the other players whose futures beyond this month are unclear, Marc Klok and Lee Croft are both contracted beyond the Mansfield game.

Robinson also admitted that he only reluctantly agreed to release winger Calaum Jahraldo-Martin in order to free up room in the playing budget.

DEAL

"Lee Croft's contract runs until the end of January," added Robinson. "Marc Klok's deal runs out at some stage in the middle this month and with Calaum Jahraldo-Martin, I will put on record that if we were not in the situation we are in then I would probably give him another six months as the kid has got talent.

"Letting him go could come back and bite me, but I have to generate funds from somewhere so we have to make difficult decisions."

As for striker Lee Erwin, who is on loan from Leeds, Robinson said he is currently not available - "Lee is injured at this moment in time" - while it is understood that a deal to sign Aaron Amadi-Holloway on loan from Fleetwood is only awaiting the lifting of the embargo to get the green light.

Freddie Ladapo's loan deal from Crystal Palace has expired and he won't be coming back, leaving with a record of having scored three goals in 22 appearances.

"Freddie has gone back and Cameron (Burgess) is still a little bit up in the air," said Robinson.

"At this moment in time, he will have to go back and we will see where we go with that. Cameron has been fantastic for us and Freddie hasn't got the goals we hoped for.

"Given time, there is talent there. He is quick and strong and was good against Port Vale other than missing his chance.

"We thank Freddie for his hard work and he's a super boy around the place. We thank him for his service and look to replace him."