Ripley no-go woe for Shez
Reporter: Matthew Chambers
Date published: 27 July 2017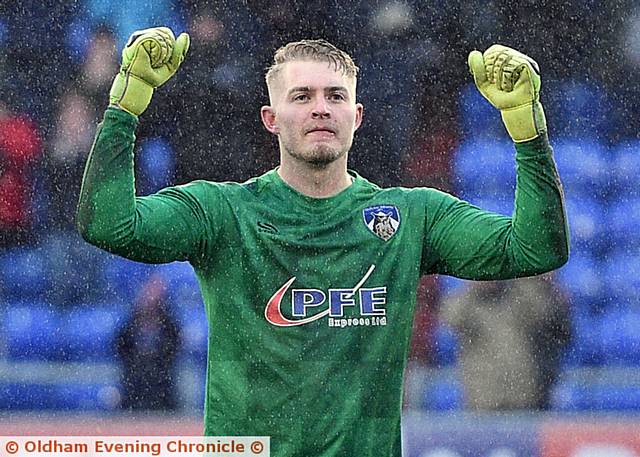 POINT OF NO RETURN . . . Connor Ripley was outstanding for Athletic throughout the 2016-17 campaign
ATHLETIC have conceded defeat in the chase for Connor Ripley.

Manager John Sheridan admitted that he had halted the chase to bring in a new number one in the hope of landing a deal for the talented Middlesbrough shot-stopper, who starred for Athletic last season.

But having accepted that Ripley won't be coming back, with other clubs now thought to be in the mix to sign the Boro star, the focus has shifted elsewhere for a new shot-stopper ahead of tonight's home match against Girona (7pm kick-off).

"It's one of the reasons we have held out," admitted Sheridan on his goalkeeper hunt. "We would love to have had Connor Ripley back, but that looks like it has probably gone now.

"There was a little bit of hope and if there was a good chance of getting him, I was going to hold out. But it's gone a bit too far and now I will go for another option.

"We are speaking to one or two clubs and I'm not worried about it. It is not uncomfortable, as the goalkeepers we are looking at have all been playing throughout pre-season.

"If we can get one of the three we are looking at as first-choice goalkeepers, then I'll be pleased. I don't think it will be a problem getting a number two, but I want to make sure we have a number one in first."

Keen to bring in a goalkeeper as soon as he can - possibly even in time for tonight's game - Sheridan also said that he won't be pursuing a deal for trialist Reagy Ofosu, but remains keen on landing a new central midfielder.

AFFORD

"We have to work around what's available and what I can afford," the manager said.

"I definitely think we need two goalkeepers and as I have mentioned before, a midfield player.

"If other players come up and are available and I can work out a deal, I'll do it."

Tonight's clash sees Athletic up against a newly promoted La Liga side who have new signing from Middlesbrough, striker Cristhian Stuani, in their squad.

Girona - a club with ties to Manchester City - were beaten 2-1 at Nottingham Forest earlier this week and Sheridan expects the Spaniards to pass the ball well on what is now a pristine playing surface at SportsDirect.com Park.

"I hope it will give us a good test, fitness wise," Sheridan added. "They will move us around and they have just gained promotion, so I expect a good test.

"Technically they will be very good. Hopefully, we can go and affect the game and score goals."

Paul Green and Brian Wilson (Achilles) are slight doubts, as are Darius Osei (hamstring) and Dan Gardner (knee).

Admission for tonight's home game is £10 adults, £5 concessions and £1 under-12s.

TICKETS are on sale for the away game at Walsall on Saturday, August 12.

Advance prices are £20.50 adults and £15.50 concessions, with an additional £2 added for those who choose to pay on the day at the Banks's Stadium.