Ripley goes for a Burton
Reporter: Matthew Chambers
Date published: 08 August 2017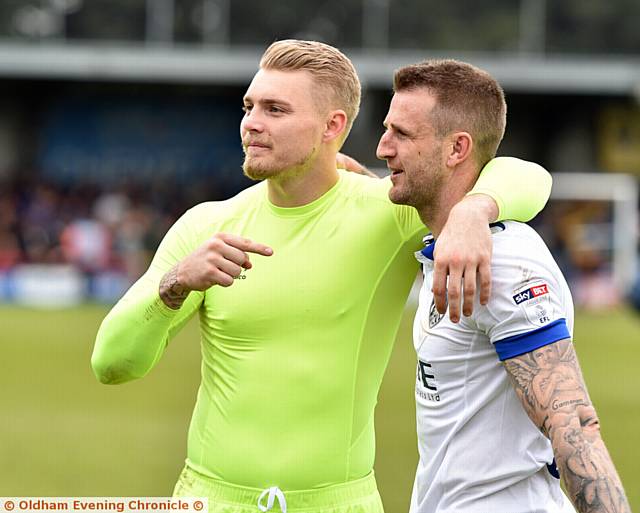 HEADING BACK TO OLDHAM? . . . new Burton Albion capture Connor Ripley with Peter Clarke after Athletic's draw at Wimbledon last season
ATHLETIC may have to find a way past last season's player of the year if they are to make it into the second round of the Carabao Cup in successive seasons.

Connor Ripley, a target for John Sheridan during the summer, has signed for Burton Albion on a season-long loan and could take his place between the posts tomorrow night (7.45pm kick-off).

Sheridan remains on the hunt for his own additional goalkeeper, having landed Cardiff's Ben Wilson until January.

He hopes to have a new man in place before tomorrow night, as Athletic aim to emulate last season's success over Championship opposition when Wigan were beaten 2-1 at SportsDirect.com Park.

Ryan Flynn scored that night and he, along with fellow men left out of the starting line-up against Oxford, could have the chance to state their case.

"I have got players who have looked sharp in training and there are players like Courtney Duffus, Mason Fawns, Ryan Flynn and Cameron Dummigan who have looked good in training and who I am not frightened to put in," said Sheridan.

"I had quite a strong bench against Oxford and Dan Gardner will be back soon (after Walsall), while I hope to get another player in.

"I do hope we are strong enough if everyone is fit.

"Whatever game we are playing in, I want us to win and to be a winning team.

"It's a big, big game for us. There is always the thought that the further you go, the bigger clubs and the bigger pay day you might get.

"We aim to go as far as we can."

Ripley (24) signed a two-year extension to his current Boro deal before moving on loan to Nigel Clough's side.

While he has missed out on that particular target, Sheridan says he has in his sights players who can take on the crucial role of midfield organiser he feels his side are missing.

"We need a midfielder who will stand and see things. To dictate and to shout 'what are you doing that for?' instead of me on the sidelines," added Sheridan. "I am not playing.

"Richie Wellens is saying exactly the same things. They are quite hard to get, those players. They don't have to be the best passer, but they just see pictures and play like a manager on the pitch.

"It goes a long way to getting a successful team.

"You have to look around at what is available. I have looked at one or two players and I've identified a couple I think could play that role. Getting them is a different matter.

"Ousmane Fane did really well against Oxford, doing all the ugly things. But we definitely need a talker, more than anything."