Latics must do better
Reporter: Matthew Chambers
Date published: 10 August 2017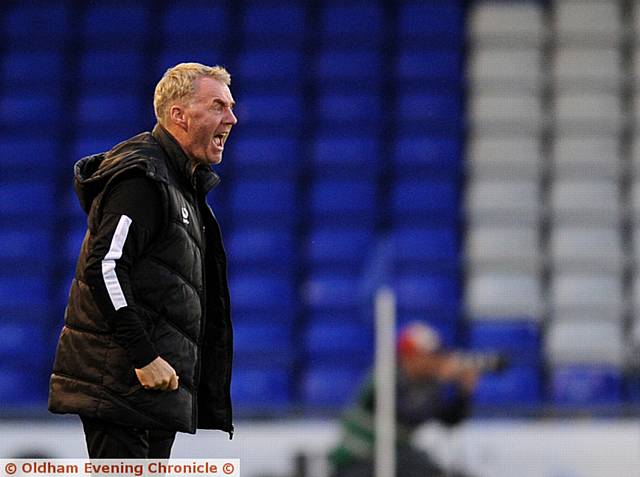 'GUTTED' . . . Athletic boss John Sheridan yells his instructions from the touchline during last night's Carabao Cup defeat by Burton.
JOHN Sheridan felt his side were operating well within themselves for periods during the home loss to Burton Albion last night.

The decisive goal in a 3-2 defeat in the Carabao Cup first round came through a Lucas Akins penalty on 86 minutes.

Athletic twice hit the woodwork - first through Aaron Amadi-Holloway in the first half and right at the death from Peter Clarke's header - after for a brief period taking the lead.

But it was the slow opening, following on from the loss to Oxford, that particularly irked Athletic's manager.

"I look at it and I'm gutted I can't play football any more," Sheridan said. "I haven't played in 12 years and players are so lucky to be out there. I don't like those who think they can play at 60 or 70-per-cent. You have to enjoy being out there and it drives me absolutely potty.

"I don't want to talk like that but I saw that in the first 25 minutes.

"I can accept being beaten, but your enthusiasm should be 120-per-cent."

Ryan Flynn missed the game through a slight Achilles problem and new signing Gyamfi Kyeremeh, who penned a two-year contract with the option for a third yesterday, did not receive international clearance in time to feature.

Ahead of the first away trip of the season at Walsall on Saturday, Sheridan was left frustrated by his side's leaking of two soft goals against the Championship club last night.

"It is the start of the season and players have to realise how I want to play," Sheridan said.

"The problem was, we didn't score enough goals and I want us to go out and win more games than we did last season.

"You have to see pictures on the pitch and spot danger before it happens. The two goals against Oxford were comical and I've watched them over and over again.

"The first goal tonight was comical. Even the penalty here I didn't see coming.

"If someone is daydreaming, that means players have to do better and be switched on.

"I take positives that we scored two goals against a Championship side and Aaron's header was unfortunate.

"The luck wasn't with us and the chance right at the end should be a goal but for Connor Ripley making a brilliant save.

"We did create chances and looked a threat."

In the night's other Carabao Cup action involving a League One club, Walsall were beaten 3-2 at Sheffield United.

Other results -

Carabao Cup first round: Colchester 1, Aston Villa 2; Crewe 1, Bolton 2; Leeds 4, Port Vale 1; Sheffield United 3, Walsall 2.