Young hopefuls sign up
Reporter: Park Life: TONY BUGBY
Date published: 19 May 2009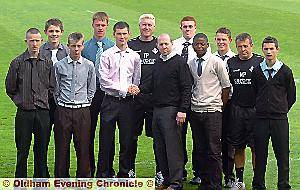 ATHLETIC managing director Simon Corney, youth-team chief Tony Philliskirk and centre of excellence manager Mick Priest welcome Athletic's latest young guns. From left to right: Andrew Crompton, James Tarkowski, Kirk Miller, Shaun Routledge, Greg Kidd, Matthew David Carr, Leeroy Chinthengah, Matthew Andrew Carr, Connor Hughes.
ATHLETIC have completed the signing of nine youngsters who will begin two-year scholarships at Boundary Park.

The players will be aspiring to emulate Ryan Brooke, the 17-year-old trainee who made his debut and scored Athletic's match-winning goal at Walsall on the final day of the season.

Athletic have a marvellous record of producing their own players and, of the 16 involved at Walsall, seven came through the junior ranks.

Here are the new arrivals:

Matthew David Carr - The midfielder/defender was a member of the Greater Manchester under-16 squad which won the national championship last month, defeating Essex in the final at the New Den. The Bury-based Carr has been at the centre of excellence for three years.

Matthew Andrew Carr - No relation to the above, the Bolton-born player only joined the centre of excellence from Mosley Common juniors in November and has successfully made the step up, despite his lack of experience at a professional club.

Leeroy Chinthengah - The striker is another member of the triumphant Greater Manchester under-16 squad and has attracted the attention of a number of Premier League clubs.

Andrew Crompton - Manchester-based midfield player who can also play off the front man. He is regarded as one of the best passers in the youth ranks.

Connor Hughes - A second player recruited recently from Mosley Common and another who has successfully made the transition. He can play wide left or right.

Greg Kidd - The Harrogate-born left-back joined Athletic from Bradford City in January and has proved to be an excellent find. His long throw is a great weapon.

Kirk Millar - A forward from Belfast, Kirk played for Linfield in the Irish Premier League this season at the age of 16. He has represented Northern Ireland under-18 schools.

Shaun Routledge - A goalkeeper who was a late addition to the ranks, only joining Athletic at Easter following a successful trial. He represented Cumbria under-16s this season.

James Tarkowski - The defender has done well to secure a scholarship bearing in mind he broke his leg earlier this season. He is another member of the Greater Manchester under-16s championship-winning side.
Most Viewed News Stories