Hungarians cut short trial spell
Reporter: MATTHEW CHAMBERS
Date published: 17 February 2010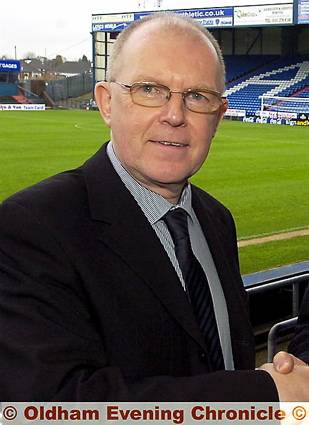 ALAN HARDY: Enjoyed working with the Hungarian visitors.
THE Hungarian connection at Boundary Park has survived - despite the departure of four players and two coaches.

Patrick Tischler, David Kalnoki-Kis and Norbert Csiki — all of whom have featured on the bench for the first team — are not returning to Boundary Park to complete the full season on loan from MTK Hungaria of Budapest.

Atila Beszterczei has also cut ties with Athletic, with Szabolcs Csorba set to do likewise.

It leaves centre-back Ferenc Fodor and goalkeeper Tamas Floszmann as the club's two remaining Hungarians.

The arrangement originally came about as a result of managing director Simon Corney's introduction to the club through a friend who works at Liverpool, who have forged strong links with the youth set-up at MTK.

When the partnership involving Athletic was originally conceived, the idea was that the club would get second pick, after Liverpool, of the most talented youngsters who would then spend a full season at Boundary Park.

And though the link hasn't worked out due to the homesickness of those players who have left Athletic, MTK coach Zsolt Szekely described it as a "fantastic experience" for the boys during their seven-month stay.

Athletic chief executive Alan Hardy is happy to keep the arrangement going through Fodor and Floszmann.

"Though the boys who came over are grateful for the experience of playing in England, some found it difficult to settle being away from home," Hardy said.

"We have reached agreement with MTK that the lads return to Budapest, though Fodor and Floszmann are keen to stay and continue their development here."

"It was unfortunate we were not able to complete the full 12 months loan for some of the players.

"We have enjoyed working with them and hope we have been able to expand their horizons and they have benefited from their time in Oldham. We wish them all the best for the future."

Walsall, beaten 1-0 at Boundary Park at the weekend, pulled off a shock in League One last night by winning at Leeds United.

Julian Gray set up Dwayne Mattis to put the Saddlers ahead a minute after half-time and though Leeds equalised through a deflected Gary McSheffrey cross, centre-back Clayton McDonald's header nine minutes from time left the home side — who face Athletic at Elland Road in six days' time — with a record of just one win in seven league games.

Saturday's opponents Colchester United were also in action last night, winning 1-0 at Yeovil.

Kayode Odejayi scored the only goal to leave his side just three points behind Leeds in third.