Lee's simply the best
Reporter: Matthew Chambers
Date published: 28 April 2011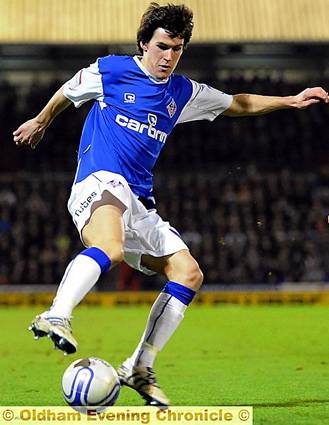 KIERAN LEE . . . picked up four awards.
KIERAN Lee was acclaimed as the "best right-back in League One" by team-mate Dean Furman after bagging four player-of-the-year awards at Athletic's presentation night.

The 22-year-old defender, technically accomplished and a model of consistency in an up-and-down season for the club, picked up the fans' player and players' player awards.

And he was also honoured by the Boundary Blues and the Oldham Athletic Supporters Association during the ceremony at the White Hart, Lydgate.

Currently overcoming a hamstring injury ahead of Saturday's game at Swindon Town, Lee has made 44 appearances this season, scoring two goals.

He has impressed enough during his first full season as a first-team regular to be awarded a 12-month contract extension, taking him until the end of the 2011-12 season.

"It has been a good season for me but hopefully next season can be a better one," said the former Manchester United trainee, who first arrived at Boundary Park three years ago.

Furman, who was selected as the OWTB internet forum's top player, gave his team-mate Lee the thumbs-up on Twitter.

And another man who enjoys a tweet or two, ex-Arsenal left-back Cedric Evina, was named the players' young player of the year.

Ryan Brooke was recognised for his hard work off the field and collected the community player of the year, while defender Jean-Yves Mvoto was Trust Oldham's top performer.

Super-fan Gary Davies, who has attended 100 of Athletic's first-team, reserves and youth matches this term, was chosen as the club's supporter of the year.