New Year, but more of the same
Reporter: Matthew Chambers
Date published: 02 January 2014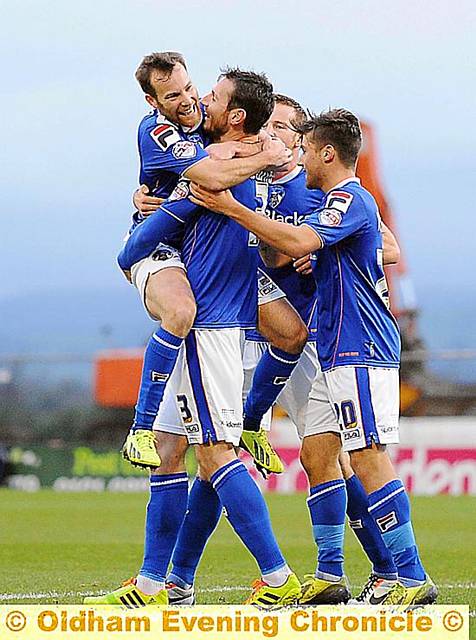 James Dayton jumps into the arms of Jonathan Grounds after the defender's equaliser for Athletic. Pictures by VINCENT BROWN and ALAN HOWARTH
Athletic 1, Shrewsbury 2


LIKE the Morecambe and Wise Christmas Special, Athletic fans have seen all this before.

But unlike Morecambe and Wise, thus didn't amuse one bit.

Familiarity is breeding the sort of contempt that yesterday drew jeers at the final whistle from all three sides of the ground.

To say Shrewsbury aren't the greatest of sides is like saying Boundary Park isn't quite finished yet.

Here, like nine sides before them in 2013-14, to the visitors' credit they dug in against a savvy-free Athletic and prospered by a single goal.

Aaron Wildig struck the match-winner in the second half, after Jonathan Grounds had appeared to spark a revival by levelling Jon Taylor's opener.

Lee Johnson's side has lost four times at home this season, scoring only 10 times in the process — at a rate of only one goal per game. Whether it is tactics, injury or just rotten luck, that is clearly an epidemic of under-achievement.

The Shrews mucked in, camped out in their own half for long periods and got a dirty job done.

Athletic, on the other hand, hit all the right notes - but not necessarily in the right order.

There were plenty of chances. Korey Smith smacked a shot against the crossbar shortly before half-time, Adam Rooney's header hit a post after the interval and David Mellor forced Chris Weale into the best of a number of excellent saves. But despite Mike Petrasso's regular driving runs, the end product was missing.

In awful conditions, with a strong wind whipping through the vacant area where the new North Stand will be built, Athletic started with promise as they looked to build on successive draws at Sheffield United and Coventry.

Returning winger James Dayton was lively, twice hitting shots off-target, while in the middle of the field Mellor was driving forward with purpose.

Then came a goal as absurd as any sketch featuring Eric and Ernie. A loose ball was flicked over Athletic's centre-backs, Connor Brown's headed back-pass was way short of Mark Oxley and Taylor simply rushed in to volley home under the goalkeeper.

Athletic at least responded well and Grounds turned scoring hero to slam home a half-cleared corner — one of 14 Athletic had on the day, compared to Shrewsbury's one.

Athletic's approach work was not so effective after the break. Too often the ball was pumped towards the heads of Rooney and Clarke-Harris, who barely won such a challenge with their markers.

Mellor was brilliantly denied eight minutes into the second period and two minutes after that, Rooney's header from Petrasso's cross struck the near post.

On such moments games hinge and this one did thanks to Luke Summerfield's midfield surge, an Old Testament-style parting of the waves in the centre of the home defence and Wildig's neat finish after his own shot rebounded kindly back to him off an upright.

Despite sustained pressure and Petrasso's regular rushes, a second goal was not forthcoming.

A look at the league table invites a gulp. By hook, by crook, by the boost of injured players returning or by the use of the transfer window to fetch in reinforcements, too much more of this same old sketch is not an option.