No-frills Holden tells players to give it all they've got
Reporter: Matthew Chambers
Date published: 27 February 2015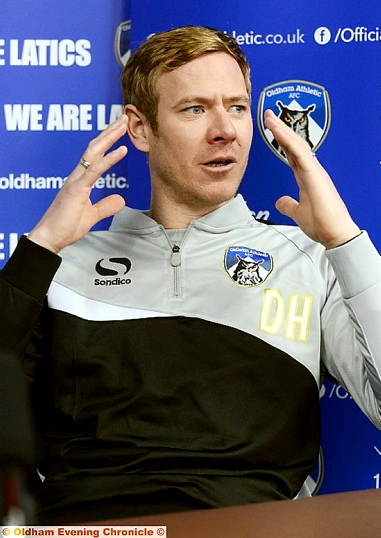 RARING TO GO: Dean Holden at the pre-match press conference. PICTURE: ANTHONY MILLER
DEAN Holden is urging his team to "run through brick walls" against Preston tomorrow as he bids to make the most of his chance to steer the club back into a play-off spot.

The caretaker manager wants his Athletic players to defy injuries to put back-to-back defeats behind them.

"It's a different challenge," said Holden, who took on the temporaray role on Wednesday.

"There is the challenge where you are 10 games without a win and with confidence through the floor, but this is a great opportunity — albeit that we have lost the last two and with the lads needing picking up a little bit.

"We have games in front of us where we can go and get promoted. It doesn't matter who the manager is or who the chairman is, if there are no fans or 15,000. Hopefully the fans will see, as they have for the most part of the season, players running through brick walls for the shirt.

"As a player I knew I would always give everything. It didn't matter if I was playing well or not. I saw it as a challenge to work harder than my opponent and not let him beat me. That is what I will be putting across."

Holden, currently working for his UEFA Pro License in Scotland, says he has no designs on becoming Athletic's next permanent boss.

"It isn't in my thoughts at the moment," he added. "It is not on the table.

"If the board said to me we want you to take the team full-time, would you want to do it? Then I will think about it. I just concentrate on things I'm in control of."

Club captain Adam Lockwood is assisting Holden and the pair took charge of their first training session yesterday.

Holden's first major challenge is selecting a squad for tomorrow, with George Elokobi, Joseph Mills and Amari Morgan-Smith all out with hamstring injuries. Jacob Mellis (hamstring) and Rhys Murphy (knee) are doubtful, though Conor Wilkinson could make the squad.

Paul Scholes is reportedly set to rule himself out of the running for the Athletic managerial vacancy.

The 40-year-old Manchester United legend, who often watches the club, is said to believe the timing is not right.