What a waste!
Reporter: Matthew Chambers
Date published: 05 November 2015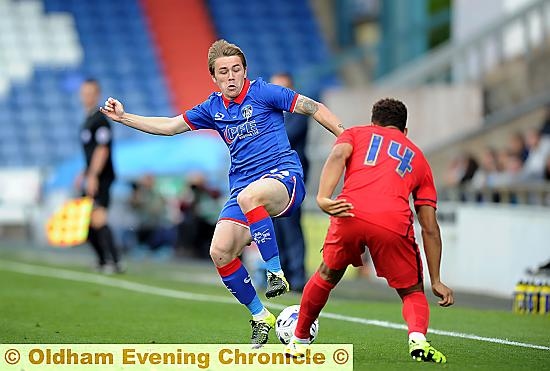 GEORGE GREEN . . . unspecified personal issues.
ONLY four years ago, there was talk of a bid from Bayern Munich for George Green.

Today, a 19-year-old once described as the "next Wayne Rooney" wakes up joining the ranks of once-promising, talented yet flawed young men no longer making a living from the game they promised to excel at.

Athletic released a short statement yesterday which wished the enthusiastic and infectious character the best for the future, after his contract was brought to a close 13 months early by mutual consent.

As he battles against the unspecified personal issues which have derailed him at Everton and now at Athletic, former Bradford City wonderkid Green will need all the goodwill in the world to make it back to where he believes he should be.

It has been weeks since the heralded summer signing has trained with the first team and the youngster from Dewsbury now faces a battle not to become part of an alarming statistic.

The PFA calculate that of those young players tied to professional clubs at 16, fast-forward five years and more than three-quarters will be left outside the game.

Why is it that so many players, brought up in the environment of Premier League clubs, fail to succeed?

The physicality of the game at professional level seems to catch some out, with top academy matches played out more than ever as games of strategy.

One Athletic scout was recently dispatched to watch a potential young centre-back from a Premier League club. He could offer no report on whether or not the player was suitable. Why? He wasn't required to win a single header in 90 minutes.

The disparity in wages can't help much, either. When teenagers earning £4,000 a week in academies are told to go, it must be difficult for them to swallow the offer of £400 a week in the lower leagues, where players arrive by bus armed with their own packed lunches.

Being asked to do your own dirty work is not something these coddled young men are used to.

One player who came on loan to Athletic from a Premier League club showed a senior member of staff his dirty boots.

"What do I do with these?" he asked, before being ushered to the boot room where he was invited to clean and polish them himself.

The real world so easily comes crashing in around young players. In rugby's Super League, one club offers an unusual brand of motivation for their academy starlets by sending the most promising candidate off to work full-time in a local steelworks for two weeks solid during the season.

"There's your choice," they are told. "Don't work hard enough and that's where you will end up."

While his off-the-ball work needed a lot of cleaning up, the belief that he belonged at the top was never a problem for Green.

He told his team-mates on joining Athletic that he planned to be back in the Premier League only six months down the line.

"I'm only here on loan, lads," he said, smiling.

Twenty weeks and only four appearances later, a career lies in ruins before it has even started.

There must be lessons to be learned, somewhere among the rubble. Hopefully, Green will get the help and support he needs to start putting the pieces back together.