Bring on Cotton Clouds 2
Reporter: Simon Smedley
Date published: 22 August 2017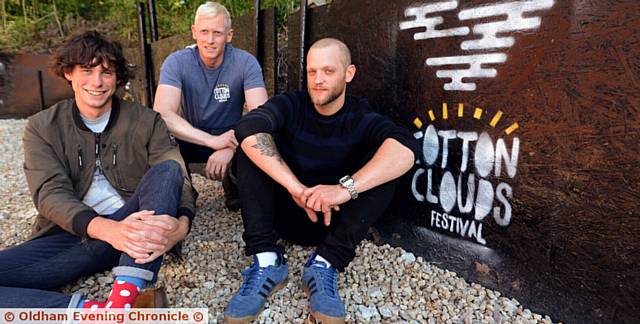 Organisers of Cotton Clouds Festival (from left) Max Lees, Rick Lees and Luke Stanley
WHO'S up for Cotton Clouds II next summer?

I certainly am, and it's now guaranteed that thousands of other live music fans will be following the overwhelming success of the opening festival at the ideally-situated Saddleworth Cricket Club venue last Saturday week.

Cotton Clouds will happen again, as the Chronicle found out this week when the main organisers of the massive event, Rick Lees, Max Lees and Luke Stanley, spoke exclusively for the first time about how they felt the whole day went and what's in store for next time.

With the likes of the The Coral, the Sugarhill Gang, Nick Heyward, The Whip and a host of other brilliant bands playing across three superbly kitted-out stages, Cotton Clouds was nailed-on to be a success.

However, although he might play it cool in this interview situation, Rick is clearly delighted that all the team's tireless work appeared to pay off so handsomely.

He said: "We'd been trying to imagine what it would look like for nine months - that's how long it took us to plan for the one single day.

"The build-up was so exciting, then we sold out, which was amazing for a first year, then we got to the day and we were just really, really pleased with it.

"Everyone came together, there was a really strong community spirit, great atmosphere and no trouble whatsoever.

"It certainly felt like the start of something special."

Rick's brother Max took great pride in being part of the organising team and, clearly, the awesome bill they managed to put together.

He said: "I still can't believe the Sugarhill Gang have been to Greenfield.

"When we set out to do this festival, that's the sort of thing we wanted it to say - 'we've brought the Sugarhill Gang, who's it going to be next?'

"All the bands were fantastic, though. It was incredible.

"The team were absolutely over the moon with how it went, too. We just can't wait to get cracking with the next one now.

"We've got so many ideas on how to improve the festival, how to make it bigger and better."

Luke was equally excited looking back at the day, but again it was a mad one. Did he actually get to see any of the artists play?

"I'm not going to lie, it was hard to actually stop for a moment," he said. "But when I did I made sure I watched Darling Club.

"They had some really catchy numbers and we all love Jake Fletcher.

"His support for the festival was brilliant. He's a local artist and just seeing him rock it was great. The crowd loved it."

All 3,500 of that crowd clearly lapped it up at Cotton Clouds, so will they get the chance to do it all again next summer?

Some of the punters wanted to see it extended into two, or maybe even three days in 2018.

Rick said: "Obviously it's going to be in the same place. There's a few adjustments we want to make so that as an operation it'll function better.

"We certainly want to maintain the calibre of artists we had this year. We all thought that went really well and we have got ideas to kind of follow a similar framework.

"At the moment, the licence we have is just for the one day. If we wanted to go for two or three days, then we'd have to apply for a new licence.

"Now that we've proven to local residents that we can run this smoothly, I don't think there would be many opposed to that, but ultimately the event is still in its infancy and one day is certainly more than enough for us to cope with."

A repeat of the one day would be plenty enough for me, so whatever happens next time I'll be there!

Cotton Clouds #1 brought rain early on, but the sun put its hat on from early afternoon and stayed there for what was a glorious day.
"We're all from the north, so we just bring a big coat don't we? We don't go soft if there's a bit of rain," Luke said. "The sun did come out, though, and it was great in the end. It was like a miracle."