This is how it feels: the highs and lows
Reporter: Martyn Torr
Date published: 14 October 2014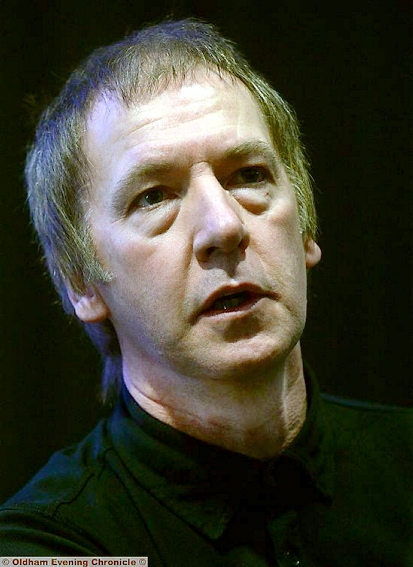 Inspiral Carpets band member and XFM presenter Clint Boon
Part two of Martyn's chat to Inspiral Carpets legend Clint Boon

CLINT Boon is one of those blokes it is impossible to dislike.

Until I rolled up at his beautiful home in a secluded part of Stockport I had never met the man. That he is charismatic is beyond question and he immediately made me feel at home. Coffee was offered before I had got my feet under the kitchen table - and offered several more times during our time together.

I was introduced to his family, his delightful young sons and his beautiful wife, and reminded that he had two more children — son Max (19) a student and male model and daughter Harley (21) who has just completed a degree in fashion design — of whom he is immensely proud, from his first marriage.

This is a well-rounded guy - and why not? He was brought up in Oldham and remembers having to go to his gran's house once a week for a bath.

"Otherwise I was washed in the kitchen sink, my father scrubbing with a flannel while my mates watched through the kitchen window."

He laughed at the memory and took another swig of coffee as he put into perspective his current life as reincarnated rock star, award-winning radio presenter and in-demand disc jockey.

He juggles these with being a full-time father and tutor — his three boys have been taken out of mainstream education and taught at home by he and his wife Charley. He also raises money for St Mary's Hospital in Manchester. To date the family has raised £40,000 for Hector's Fund — his middle son's name, the boy having volunteered to have his long hair cut to raise money following the death of his one month old sister, Luna.

"It was difficult time for us all, and Hector was keen to raise money for the hospital. We didn't stop with the sponsored haircut and to date we have bought 10 custom-made mother and baby feeding chairs from America for St Mary's."

The fund remains open, by the way: you can contribute by visiting justgiving.com/hector-angel-boon

Angel is Hector's middle name.

I finished part one last week as Clint joined Inspiral Carpets, lead singer Steve Holt's departure before the band made it big, and the lads auditioning Noel Gallagher for the vacant spot.

The boy from Burnage, who went on to record some of the biggest hits of the 90s, didn't make it with Inspiral Carpets. His voice didn't suit the Oldham lads and they turned him down, so he became their roadie for the next five years. The job went to Tom Hingley instead.

"They were five good years and Noel learned a lot about the industry," Clint told without a hint of irony.

The Carpets continued to tour and make records; then came their big breakthrough. In 1989 they sent another demo to John Peel at Radio One and it was played on air.

"John Peel was a powerful influence, a barometer for new talent. It was guaranteed that if he played one your songs then the next day the 'big boys' would start making calls," explained Clint.

And so it came to pass. All the big labels wanted to sign the band - but they opted instead for the little-known Mute label, which had Depeche Mode and Erasure on its books. The Carpets became a national name and their recording "Move" reached 41 in the charts.

Clint wrote the band's most recognisable song "This is how it feels", now sung by football fans the world over. At one point the Carpets had 13 top 40 singles in the UK charts. They enjoyed global tours and were regulars on "Top of the Pops". The band's most popular album, "Life", made number two in the national charts. The Carpets were BIG.

By the mid-90s the band was running out of steam. Their deal with Mute expired and a collective decision was made for the band to take a break: "A few of us had families and Madchester was coming to and end..." explained Clint.

He took up what sounds very much like "missionary" work, pioneering a programme with Oldham education authority to take music into schools. "Oldham was the first council in the country to do this and everyone does it now. Oldham always first."

Around this time Clint formed a new band, The Clint Boon Experience, with more lads from Oldham. But they were tough times.

The band did ok and one of their songs, "White, no sugar" reached the top 40. They travelled abroad to gigs and put out two albums featuring a little known Alfie Boe — now one of the world's most recognisable tenors — singing some operatic numbers.

Clint wrote lots of songs and two "experience" albums featuring Alfie Boe — "Life in Transition" and "A Compact Guide to Pop Music and Space Travel — are still available on iTunes.

But disaster was on the horizon . . .

Driving to a gig in Scotland they had an horrific accident and band members suffered serious injuries. The band's girl singer had to be airlifted to hospital. It was the beginning of the end for the Experience.

"I was living in Milnrow and I had to sign on for two years. I had a family, my outgoings were going up, my earnings from days in the music industry were going down. I used to get milk tokens and income support. It was a pretty dark time."

During a radio interview with Tom Robinson, Clint was asked to stand in as guest presenter while his host took a holiday - and a newcareer unfolded. His presenting and DJ work continues to this day and underpins the Boon family lifestyle.

He was a guest host on Terry Christian's Century music show and was offered a prime-time show on Oldham station Revolution: "I was always a chatterbox and very relaxed about talking into a microphone," he explains.

He was approached by London radio chain XFM to front a bid for a Manchester licence, and continued to build a following and a say in the playlist at Revolution.

XFM won the bid but Clint was happy in Oldham and decided to stay. "Then Mike Sweeney phoned me in early 2006, told me I was making a big mistake and convinced me to move to XFM. That was eight and half years ago and today Clint still hosts the popular 4pm-7pm drivetime show.

"Radio is my main source of income now." he reflects over yet another coffee."

He has also carved a career as a DJ at clubs around the country.

And what of the Carpets?

They are back together, with original front man Steve Holt joining the other Oldham lads Graham Lambert, Craig Gill, Mark Hughes and Clint, plus Denton lad Martin Hughes to rediscover their musical roots.

They put out the single "Spitfire" at the end of August and a new self-titled studio album (18 months in the making in Warth Mill studio in Diggle), comes out under the Cherry Red Records label soon.

They tour, too and have played in Barcelona and Rome, but are hugely selective about when and where they perform.

How about performing in Oldham, I ask? "Definitely, but it will have to the right venue, somewhere iconic."

Watch this space...