Devoted Jill's a true public servant
Reporter: Martyn Torr
Date published: 21 October 2014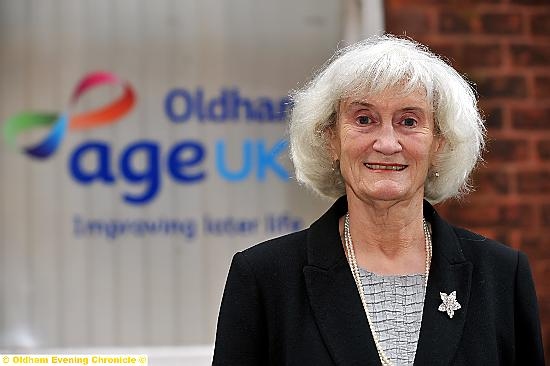 AGE UK Oldham chair Jill Read: oversees the £2 million turnover organisation
MARTYN MEETS... Jill Read, history teacher, county councillor, Age UK chairman... and charity shop volunteer

UNTIL SIX years ago when she became chair of Age Concern Oldham, I had never heard of Jill Read and Jill's decades of public service to Oldham and the North-West.

A sprightly and effervescent 77, Jill is a native of West Bromwich but is definitely one of us now, having lived in Oldham for almost 55 years.

Her late husband, George, was a sponsored student at Cambridge University and had a job lined up with British Aerospace, what was to become BAE Systems in Chadderton, hence the couple's move to this area.

Home since 1984 has been Dacres Hall, high on a hill overlooking Greenfield. The residence is a story in itself and is somehow a befitting status for a lady such a Jill. The hall is a former working farm, the vicarage of Bartholomew Dacre, vicar of St George's Church in Mossley. He had to make a living from the farm since his stipend wasn't nearly enough to keep his family. Years later a local industrialist and self-taught amateur architect, Tom Shaw, acquired the property and the hall came into being.

In the amazing dining room is an ornate fireplace and mantelpiece engraved in the arms of the Shaw family and that of his wife's family, the Cheethams.

Jill and George acquired the property after initially living in Stalybridge and Shaw following their Cambridge studies.

She and George met through an interest in politics — once at the university debating society she seconded a motion put by Brian Walden, later to become a Labour MP and host of a TV politics show.

I find it hard to place Jill - with her erudite diction, perfect pronunciation and wonderful speaking voice looking very much at home in Dacres Hall - as a working-class lass. But that's what she is, and mighty proud of it.

She met George an East Anglian, at Cambridge Labour Club during their university days and married in 1959. George was an aerodynamicist and after a career in the aerospace industry was headhunted by Manchester University to teach his specialism.

Their home in Shaw overlooked St Paul's cricket ground, but George's interests were political, not sporting, and it was a chance conversation with MP Joel Barnett that encouraged George to seek a seat on Crompton Urban District Council.

He became a councillor in 1962 with the enthusiastic support of Jill, who was busy bringing up their two boys, William and Charles.

In 1974, in the wake of local government reorganisation, George was elected to the new Oldham Council and Jill to Greater Manchester Council, a seat she held until the upper tier of metropolitan authorities was abolished by Margaret Thatcher in 1986.

Jill also sat on the Oldham Health Authority and the Family Practitioners Committee, another role in which she thoroughly immersed herself and enjoyed for the best part of 10 years.

By now George was enjoying a new life at the university, where he helped establish a design consultancy supporting manufacturing.

At this time Jill had an understated career in teaching - history, of course - and retired in 1994 as head of Lower School at South Chadderton School. In the same year she was elected to the Greater Manchester Police Authority, a post she held for two terms as an independent.

So it came to pass that, after leaving the police authority, Jill was asked to stand as a Labour candidate for Royton South, a seat she held for two years before being defeated by a Liberal Democrat.

I asked if she would have liked to carry on and there was hesitation before her answer: "It was a nightmare, really. There were so many sad problems, but we had practically no power. A lot of the time we had precious little influence because of the political power of central government but, yes, I would have carried on, but I was defeated."

Then she saw an article in the Oldham Chronicle — where else? — that Age Concern, as the charity then was looking for a chairman to succeed Sylvia Hunt, who had served the maximum allowed term.

Ever the public servant, Jill applied and after what she described as an extensive interview by a panel of trustees she got the job.

She has overseen the not altogether smooth merger with Help the Aged — the combined charity now being Age UK — and heads a board of directors containing a cross-section of the Oldham community looking after a £2 million turnover concern.

"I have been astonished at the range and breadth of the charity's activities and the sheer commitment of the staff. Whenever or whatever needs doing, they just get on and do it."

There is a genuine sense of wonder and pride in this last statement and trustees (of which I am one) feel privileged that such a woman is in charge.

You can meet her if you like. Jill works as a volunteer in the Uppermill shop in High Street on Saturday afternoons. Dacres Hall, posh voice or no...Jill remains one of us, working class to her bootlaces.