Representing Oldham my greatest privilege
Reporter: Martyn Torr
Date published: 25 November 2014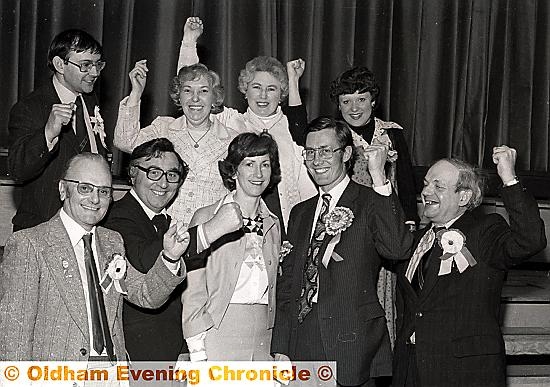 WINNER: Michael won in 1979 but saw Labour lose power as the Tories, led by Margaret Thatcher, swept into government
MARTYN TORR talks to MICHAEL MEACHER MP, part two

I WAS most surprised by Michael Meacher, not so much by his being a genuinely a nice bloke, but because he appears to have an identity crisis.

Not what I expected from a 44 years-plus politician, who remains certain of his life's role to fight for the underdog.

I say "appears to have" an identity crisis because he hides it - well despite coming out with phrases such as: "I do not lack self belief but in the social classes, where am I?

"I'd put myself in the lower middle class - I was born in Berkamstead and went to public school."

But he is quick to point out he won a state scholarship to public school - his parents Hubert — hence Michael's middle name Hugh — and mother Doris couldn't pay his way.

Having said that Michael's demeanour, bearing and diction suggest a privileged background. Throw in his academic achievements — an Oxford degree in Greats (classic history and philosophy) and a career as a college lecturer in social sciences before entering Parliament and you can see the conundrum.

There is absolutely no doubt he is a committed, 100 per cent socialist, and yet he says his parents probably voted Tory: "They were never really political, but I'm sure they voted Tory. My mother wanted me to go into the church and though I remain a committed Christian that was never going to happen.

"When I told her I was going to stand for Parliament she replied 'Michael, if you have do this then fine, but wouldn't it be just as good to be a Tory? My mother was convinced I had been brainwashed at the London School of Economics..."

The MP for Oldham West and Royton, who will stand again at the General Election next May - 45 years after he entered Parliament - has a charmingly self-deprecatory way about him.

But he rises to the challenge when asked about his political views, for he holds dear all the values of the left-wing and won't be silenced - certainly not by becoming "Father of the House", which is a possibility.

Father of the House is a traditional post with no real standing other than marking out Parliament's longest-serving member of Parliament.

And there's the problem: he might not be, but then again he might: "New MPs have five days to sign the register and swear allegiance to the throne. Not many new MPs know this.

"As I entered the house so did three others: Ken Clarke, Dennis Skinner and Gerald Kaufman. So a lot will depend on which of the four of us actually signed in first,"Michael explained.

"Technically, that person will be the Father of the House, and I simply don't know if it was me or one of the others. Either way it's not something I'll accept."

Michael fought the Oldham West by-election in 1968 - ultimately won by Conservative candidate Bruce Campbell, who toured the constituency in an old Rolls Royce.

Two years earlier he had fought Colchester and lost that seat by a little over 1,000 votes. "It was the closest election of my life," he said.

He recalled telling his wife Molly he was going to seek the Labour nomination for the 1968 Oldham West by-election, and remembers with some clarity that Mrs Meacher thought the whole exercise a waste of time.

"There were 300 applications and I had to catch the interest of the selection panel. I made it to the shortlist, but only after a woman from regional office insisted there should be six names on the list - the local group had chosen only five."

So he presented himself to the selection panel with a well-rehearsed speech — "Which I completely forgot after seven or so minutes. My mind was a complete blank so I improvised and started waving my arms about. There were 42 people in the room and I remember knocking off a woman's hat, I was so animated."

After three rounds of voting he won the nomination. "I was stunned," he admitted. He lost to Campbell but won in 1970 and the rest, as they say is, history.

He has represented Oldham for almost 45 years and places great emphasis on his constituency surgeries.

"Representing Oldham in Parliament is undoubtedly the greatest privilege of my life," he says..

"I clearly remember my first sight in Oldham as I crossed the Pennines from York where I was a lecturer. I knew I wanted to help these people. And I knew I could."

And so he has, for more than four decades. Hopefully with more to come, he adds.

So here he is; a committed socialist from, some would argue, a privileged background.

But I'm in no doubt where his opinions lie.

A man who worked for Tony Benn - surely the most celebrated man of the Left of his generation, and voted for John Prescott ahead of Tony Blair to be leader, is surely a man of principles.

And whether history dictates he will be Father of the House, it's an honour he will reject. He continues to crusade on behalf of Oldham, seeking social justice, an end to low pay and improvement in basic public services.

There is political life yet in Michael Meacher - and the Establishment won't shut him up.